Life's Little Freebies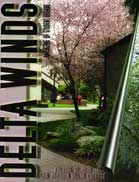 Delta Winds: A Magazine of Student Essays
A Publication of San Joaquin Delta College
1999

Life's Little Freebies
Connie S. Costa
The other day, while rushing out the front door of my house, my five-year-old son stopped me dead in my tracks when he handed me a dandelion weed he had hand-picked for me. He said, "Here Mommy, this pretty flower is for you," and he handed the wilted weed up to me. I bent down and gave him a kiss on the nose and thanked him for the beautiful flower. Moments like these make me believe that the best things in life are free and should be cherished forever in our minds and in our hearts.
I have a collection of life's little treasures. My treasures are carefully placed in an old cigar box which has been painted gold and is decorated with a variety of odd-shaped macaroni noodles, also painted gold. The box itself is a treasure to me because it was decorated by my five-year-old son, in a style that only a five-year-old child could master, and presented to me this year at Christmas. Inside the box are many small items that no amount of money could buy, such as a picture of a dear childhood friend who has passed away, a priceless collection of shiny, multicolored rocks that my sons have given to me over the years, just because, and various items I have collected over the years which would mean nothing to another soul, but are precious only to me.
In addition to the priceless items held in my treasure box, I also have a dear, longtime friendship that could never be bought. My friend Debbie has been a part of my life for over twenty years. Our friendship began in high school and has continued to grow stronger over the years. Our lives, it seems, were meant to come together by friendship. In an ironic twist of fate we now live just a few blocks away from one another and our sons attend the same elementary school. When I need to vent my frustrations, Debbie is there for me with quiet understanding. We can laugh together and we cry together. Debbie and I have been through many of life's ups and downs together: marriage, divorce, childbirth, and the deaths of loved ones. Through it all we have remained dear friends. I could never put a price tag on our friendship.
The most important freebie in life is family. My family is invaluable to me. There is no amount of money that could buy the love, support, and encouragement that my family gives to me. My sister has always been like a second mother to me. I have fond memories of the two of us spending the weekend in her dormitory room. She made me feel so special. She showed me off to her college friends, treated me to sugar-filled delicacies which were forbidden at home, and related to me as a peer, not some skinny, always-in-the-way kid sister. My mother and father have always supported me, unconditionally, through all of my life's adventures: school, jobs, marriage, and children. My parents are always the first to offer their help. When my husband and I need a baby-sitter, mom and dad always take the job. My mother brings us home-made meals and runs numerous errands for me. My father is quite the handyman and always helps out when a car needs repair or when my husband needs help with home projects. However, perhaps the love I receive from my husband is the greatest. My husband has treated me to many wonderful memories: memories of our tenth wedding anniversary celebrated with a limousine, red roses, a romantic dinner, and memories of a marriage full of love and nurturing. My husband wants me to be happy and provides me with the encouragement and support I need to fulfill my dreams. He has accepted my returning to college with an open mind and open heart and has made sure that I have everything that I need to succeed. The love and support my family gives to me is given freely, without a price tag.
It is important to realize that the best things in life are free. The people that are dear to us and the wonderful acts of love and kindness that they perform for us every day are priceless and could never be bought. We are much richer for having our dear friends and loving family, and they are more important in the long run than the amount of money in our checking account, the neighborhood that we live in, or the type of car we drive.