1999 About the Authors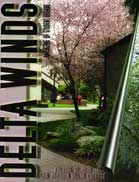 Delta Winds: A Magazine of Student Essays
A Publication of San Joaquin Delta College
1999
About the Authors
These biographical statements were written for publication in 1999.
Dianne Marie Andrehas been married for 28 years. She is the mother of two sons: Jerry, 24, and Jason, 22. After attending night classes at Delta College for one year, Dianne quit her job of seven years to pursue an associate's degree and a career in journalism.
Carrie Bellis a forty-two-year-old reentry student at Delta College. She enjoys sewing, cooking, and horseback riding. Her plans are to do well enough in lower division education to be accepted at U. C. Davis. Her goal is to get a degree in Veterinary Medicine, move to the mountains of Northern California and start her own veterinary practice.
Pamela Clarkhas worked at Pacific Coast Producers in Lodi for 24 years. She is currently working on an A.A. Degree and a cerificate in Real Estate Business. She and her significant other, Ben Waddle, live on the farm her family settled in 1895 with her two Arabian horses, one dog and a guinea pig named Tribble.
Connie Costais a re-entry student in her second semester at Delta College. She was born in Ohio and has lived in Stockton for 25 years. She plans to transfer to C.S.U.S and obtain her bachelor's degree and teaching credential. She is married and has 3 sons, aged 13, 11, and 6. She lives in Stockton. She is very active, volunteering her time to her neighborhood Little League and the P.T.A. at her children's schools.
Peter Daherhas just transferred to the University of Nevada at Las Vegas, majoring in Health Care Administration. He loves interviewing the old wise ones and writing about them, which he's now transforming into his first book to be published in 2000. His goal is to own and manage his own retirement facility along with publishing his free-lance stories.
Katie May DeLacyhas lived in Mokelumne Hill for the last twenty-six years and is greatly involved in her community. She is a re-entry student in her fourth semester at Delta. Her goals include acquiring a bachelor's degree in science and becoming a doctor of naturopathic medicine; another is to raise Canine Companions. Recently divorced after fourteen years of marriage, she spends her time studying, visiting with her friends and helping to mentor two young boys. She relishes her newfound freedom and is excited to explore what life has to offer.
Jason J. Houx is working on his General Education right now. He enjoys hiking, soccer and golf. He lives in Manteca and has been attending Delta for three years. He plans to transfer next year, but is undecided on which university. His goal is to become a teacher, because he likes working with kids.
Matt Loveis an English/Humanities student at Delta College. He enjoys basketball, reading, writing, and traveling. He plans to transfer next year to Sacramento State College. His goal is to become an elementary school teacher.
Todd Hunter Mannis working on a literature degree, and a few other things.
Jacqueline Moreyis a forty-four-year-old re-entry student. She plans to get a Master's degree in Recreational Therapy from Sacramento State.
Jo Anne Mounceis an Administration of Justice student at Delta College as well as a full-time bookkeeper in Stockton. She plans to transfer to the University of the Pacific and hopes to receive her Bachelor's degree. In her spare time she enjoys gardening, gourmet cooking, playing piano and fishing.
Patricia Muraokais a career student who enjoys learning for its own sake. She has two sons, Donnie and Alan, a supportive husband, and a dog. She plans to transfer to Stanislaus in the fall, and while not wanting to be Peter Pan, hopes to never totally grow up.
A student of life and believer in harmony between species, Yemeya Ochosi will soon graduate from San Joaquin Delta College to pursue a B. A. degree. Among her goals is the desire to affect and assist the lives of individuals who also dare to actualize impossible dreams.
Michael Ramosis a dedicated person who lives his beliefs. He enjoys writing about topics that spark his interest. He hopes to continue his education and plans to accomplish all his goals in life.
Arianna Yepezis a freshman in Delta College now, and she is planning to transfer to UC Davis or Sac State. She enjoys playing volleyball and tennis. Her goal in the future is to be a Gynecologist.