Through the Kill Zone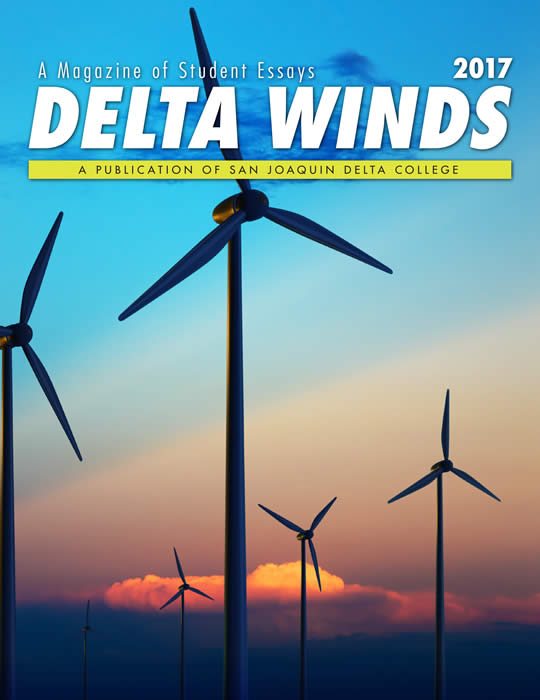 Delta Winds: A Magazine of Student Essays
A Publication of San Joaquin Delta College
2017
Through the Kill Zone
James Shahan
The "kill zone" is often referred to as the blast radius of an explosive device or the area of immediate danger during an attack. Typically, if a roadside bomb were to go off, the driver would put pedal to metal instead of stopping in place as small-arms fire would sometimes follow the explosion. To "get through the kill zone" usually means pushing through the dangerous part to get to safety.
I was half passed out and fully drunk, lying in the back seat of my Galant on the side of the road in a small parking lot in Brazoria County, Texas. In the four months I'd been back in country after my second trip to Iraq, I'd left the Army to try to save my marriage and spend time with my one-year-old daughter, whom I hadn't seen since she was born. I had no job, no place of my own, damn near no money, no plan, nothing. What I did have was a wife who was set on divorcing me, a horrible drinking problem, and in-laws who were ready to kick me out of their house because of all the fighting between my wife and me. So far, I'd applied to wash dishes at a diner, to make hamburgers at a fast food place, and to be a pipefitter, which I had absolutely no idea how to do. I could drive and load an Abrams tank. I could place a lovely dime-size shot group with a rifle on a man-sized target at 300 meters with ease. I could coordinate attack air support or send reports up to colonels and generals. I couldn't get my wife to love me anymore. I couldn't stop wishing I'd died in Iraq with everyone else.
This is not going to be a happy story. I don't know how it ends because my life hasn't ended. It probably won't have the character or plot development of a standard creative writing piece, but the people who've been through this before will understand this story, and that's all that matters to me. I don't know what you were doing between the ages of 19-23, but before my 19th birthday, I would see someone killed in front of me for the first time. Slightly after my 21st birthday, I knew someone who was captured, held prisoner, and later executed by people who only knew hate. When I was 23, I learned that one of my mentors, along with his truck crew, had been killed by a suicide bomber. I never cried so hard for so long.
Everyone always thinks when you come home from a war, you arrive to a hero's welcome with city-wide parades and streamers and dancing in the streets. I came home from one war only to buttonhook right into another. I literally had no plan for the next day, let alone the rest of my life.
After my divorce paperwork was signed, sealed, and decreed, I had to make a life-changing decision: Do I stay in Texas with my daughter and try to create a new life on my own, or do I move back to California, where all my family, friends and support networks are? After a few drinks, followed by a few more drinks, I decided. What do you do when you're 21 and 100% out of options? The same thing you did when you were 12 and out of options: you call dad. I road-tripped with my dad from Houston to Sacramento. Dad had spent some time in the 10th Special Forces Group jumping out of planes at an altitude so high he had to wear an oxygen mask, so he knew how to relate. We rented a U-Haul truck and loaded it with what few possessions I owned. Before the ink could dry on my divorce paperwork, Texas and my daughter were in my rear view.
Upon arrival at my parents' house, I was greeted by some of my best friends, who knew exactly what I needed to perk my spirits up: to consume my weight in liquor and smoke a field of marijuana. That night I learned that the shot of Grand Marnier that comes with Cadillac margaritas was intended to be poured and mixed into the drink and not treated like a shot of whiskey to be thrown back before inhaling margaritas. According to legend, I got so high and drunk that I low-crawled to my buddies' 8-hose-bong, constructed from a 5-gallon water jug, and proceeded to low-crawl back to the couch, where I blacked out. I was hung over for three days. After much deep thought and soul searching in the bathroom, I decided I needed to pull my head out of the toilet and make something of my life. I needed to live each day in honor of those I knew who had left this world. I enrolled in community college with my GI Bill®, and got a job as a security guard. Was I on my way to starting a Fortune 500 company? No. But it was a start-or so I thought.
I hated college. I thought it was full of self-absorbed children who cared nothing about the world they lived in or the people in it. I was angry at everything around me: guys sagging their pants far below the fourth point of contact, those jackasses who were always talking on speaker phone or playing loud music from their phone, people who complained about their meaningless first world problems like their boyfriends not texting back fast enough or the free campus Wi-Fi wasn't good enough. Everything pissed me off. I quickly found myself getting off work in the morning, driving to class, getting blackout drunk in the parking lot, and riding that buzz all day. Sometimes I'd need a drink or four halfway into the school day just to make it to the end. I felt completely and desperately alone. I felt like there was no one I could talk to who could relate to me on any issue that was slowly forming an ulcer in my soul, and I didn't want to burden my own family with my problems because I got myself into that mess, so I felt it was my duty to get myself out. I did what most of us (Veterans) do: suffer in silence. One fuzzy, whiskey-infused day, I saw a flyer on campus announcing "Veterans Club meeting today." It was being run by Kolin, who was a Special Needs counselor and former Abrams tank loader from my old unit in Texas. The first meeting consisted of me, Kolin, a Navy corpsman who spent most of his time with the Marine infantry, and a few others. We pretty much spent the first meeting talking about how much we hated everyone else around us and regaling each other with glorious tales of taxpayer-funded intoxication during our service days. We'd all instantly found a home in the Veterans Club, and the first few meetings consisted of welcoming newcomers, telling jokes that would be banned from most major television networks, talking about our many physical and mental injuries, and which liquor paired well with what pill to help settle them. I was a Wild Turkey and Ibuprofen guy. I called that drink "A Good Mood."
I would later become the President of the American River College Veterans Club. I found other Veterans on campus and told them about the club. Finding other Veterans was simple: clean shaven, fit looking, probably some kind of tactical backpack that was poorly designed to not look tactical, and an easily identifiable t-shirt usually having something gun related on it. I was making flyers, putting fundraiser bbq's together, meeting other campus clubs, and sharing stories of struggle. I was using everything I'd learned from the Army and applying it to something I loved just as much as serving. If I hadn't joined that club, I probably would have dropped out of college entirely just because I wasn't mentally ready for the social transition.
Within a few months of working for Securitas, I was asked to work in its Critical Infrastructure branch. I went from standing in a Wells Fargo for $9 an hour in West Sacramento to working an armed, confidential federal contract in Solano County for $25 an hour. I was also blessed enough to have Veterans and former police officers as co-workers. Now I was surrounded with those who shared my contempt for most of modern, hipster society, and that made me childishly giddy. I was also being mentored in the profession I wanted to be in, law enforcement.
Since I was an armed security guard, I had to maintain licenses. This required me to spend money. This also required my co-workers to do the same. We had to spend a lot of money to maintain and renew our firearms permit, first aid certifications, etc. I attended all the mandatory training and concluded that it wasn't anything only a rocket scientist could teach. After some Google searches and budgeting, I asked, "Why can't I do that? Why can't I teach this stuff?" And my training business was born. I was doing all the training we needed in-house except for shooting. I was cheaper and easier than the competition because I was doing all the administrative and operational stuff out of my apartment. I got all my fancy NRA and Red Cross instructor certifications. I had been behind a trigger long enough to develop a firearms program that enabled an appropriate skillset progression.
Today, my business offers security license and concealed weapons training. I don't have employees, and I don't hire anyone. I run it with my friends, people I've trusted with my life for many years. I do partnership work with a group called Work For Warriors to provide free security training to Veterans, to help them get a foundation I didn't have. I share my struggles, hoping this gives them a better map than I had. I volunteer with the Boy Scouts shooting program. In my spare time I travel around California and compete in various shooting competitions and meet some truly enlightening human beings along the journey.
Roughly after my first year of being out of the Army and accomplishing all these things, I was still missing a piece of me. I missed being in the Army. I missed the people, I missed the challenges, and I missed being a Soldier. So I joined the National Guard in 2008 and spent most of the time making friends and developing myself as a person. I took what I was learning as a firearms instructor and recreational competitive shooter and used it to help my Soldiers be better shooters; then I took that experience and made my business better. I used what I'd learned from my post-divorce life to help Soldiers who'd transitioned into the new civilian world after active duty. I took what I was learning in one aspect of my life and used it in others, which greatly increased my own quality of life. As of February of this year, I'd had enough playing Army. Now I'm out for good . . . again.
My ex-wife and I are much better as friends than as a married couple, and I just spent a week and a half with my daughter, who is now 10 years old and likes to get her clothes from a young girls' store called "Justice." The Army didn't teach me to deal with what happens when a 10-year-old daughter is thinking about what two-piece swimsuit she likes. Thankfully, she picked the one-piece. Did you know 10-year-old girls can text? I didn't know that but I know now.
I've been a police officer with the Department of Defense for six years now, filling roles such as active shooter response instructor and law enforcement physical fitness specialist. I do static entry control work as well as patrol. Is it the door-kicking, bad-guy-busting job I'd dreamed of? No. But it's a steady paycheck, and it offers me the chance at a good life. After ten years of mental bumps, bruises, and turmoil-after thinking I'd had a plan time and time again, only to watch it crumble time and time again-after all the bottles, all the girlfriends and all the girls that never lasted long enough to be a girlfriend, a good life is all I want now. I wouldn't say I've achieved that goal in its entirety, but at least I have pushed through the kill zone.
---
GI Bill® is a registered trademark of the U.S. Department of Veterans Affairs (VA). More information about education benefits offered by VA is available at the official U.S. government Web site at https://www.benefits.va.gov/gibill.