About the Authors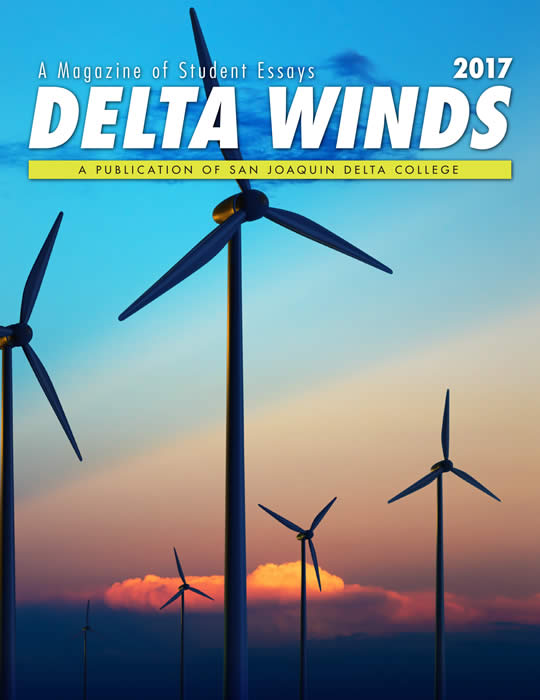 Delta Winds: A Magazine of Student Essays
A Publication of San Joaquin Delta College
2017
About the Authors
These biographical statements were written for publication in 2017.
Amber Feng was a Middle College High School student. Currently, she is attending UC Berkeley to pursue a Bachelor's Degree in Business Administration, which she hopes to use to further theprogress of women's sports.
Denisse Chacón is a lifelong learner intrigued by many subjects, including languages, politics, and science. Her love for learning led her to study French in Morocco and social movements in Mexico. In 2011, she received her bachelor's degree from Linfield College in Oregon. She then went on to teach English in Spain and Hungary. Upon her return to the U.S. she began studying science and is now pursuing a nursing career at Delta College.
Elijah Martinez did not provide a biographical statement.
James Shahan did not provide a biographical statement.
Christian Echols did not provide a biographical statement.
Trellin McCoy was born and raised in Stockton California. Being an only child most of his life, he found it was easy to slip into boredom. And film became his major remedy. After he watched Jurassic Park, he wanted to pursue a career in paleontology. But after viewing the behind the scenes of the film, he realized the film-making business seemed much more entertaining and lucrative. Trellin hopes to transfer to USC to pursue a career in film.
Nicole Gaspar did not provide a biographical statement.
Alia Asdaq Kawish was born and raised in Kabul, Afghanistan, where she completed her education and earned a Bachelor of Arts degree in English Literature in 1990 from Kabul University. She resettled in the United States during the year 2000 and lived for a year in Tucson, Arizona. Since 2001, she has been living in Tracy, California, with her husband and four children. She received her Licensed Vocational Nurse (LVN) training at San Joaquin Delta College in Stockton, California, in the year 2007. After working as a nurse for five years, she returned to Delta College to complete the remaining prerequisite courses for the Associate Degree Nursing (ADN) program to become a Registered Nurse. Her long term goal is to obtain her master's degree in nursing. She writes the following: "In the fall of 2016 semester, I had the pleasure of taking English 1A with Dr. Phil Hutcheon, who not only has taught me to become a better writer but also encouraged me to express my feelings through writing. I will always be grateful for his excellent teachings."
Elliott Wayne Rinehart did not provide a biographical statement.
Jose Francisco Espinoza did not provide a biographical statement.
Raymond Mahnke is a 38-year-old full-time student. A former amateur ice hockey goaltender and fifteen-year retail employee, Raymond returned to college in search of better career opportunities. A native of Stockton, Raymond enjoys movies, Disney trivia, and the Stockton Heat Hockey Club. Some of the authors that Raymond enjoys include Edgar Allan Poe, David Wong, and Dan Millman. After recently earning an Associate of Science in Computer Science, Raymond is now working towards an Associate in Art degree in English. The next step for Raymond will be to continue his education at CSU Stanislaus, where he plans to major in English. He credits his academic success to the support and guidance he has received from his wife.
Avigail Eve was born and raised in the Philippines and migrated to the U.S. in August of 2004. She is in her second semester at San Joaquin Delta College, working towards finishing her Architectural Drafting Associate Degree.