About the Authors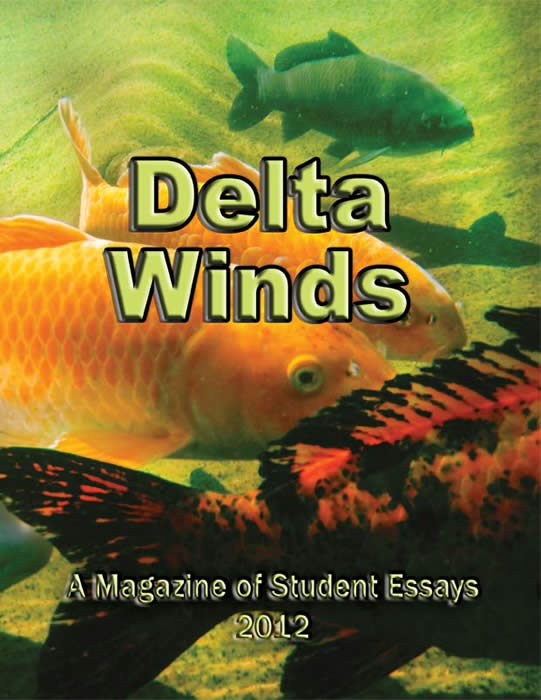 Delta Winds: A Magazine of Student Essays
A Publication of San Joaquin Delta College
2012
About the Authors
These biographical statements were written for publication in 2012.
John Hawkins is 22 years old and is majoring in culinary arts. These are his thoughts on writing: "I used to be horrible at writing, until I realized how awesome of a tool it is to know how to articulate thought onto paper. I figured to enable success in school and in life I would have to hone the skill of writing. Turned out, when I learned how to write, I discovered a great feeling, and have enjoyed writing since. Ms. Nugent asked us to write a descriptive essay on our saddest memory. Instantly, the day of my mother's death came to mind. I told myself that I would hold nothing back when writing the essay. My mother died my sophomore year in high school,but my guardian has always been my grandma. She has taught me how to use my heart. I am now a chef at a local restaurant and in the process of obtaining two degrees: AA in baking/pastry, and culinary arts. I love Hip-Hop, reading books, and cooking food. Life's simple."
Dennis M. Zevely, 24, is a full-time student at San Joaquin Delta College. Dennis recently came back to Delta after taking a few years off to "experience" life. After entering the working world, he realized that it is pretty tough for people who do not have a college education to succeed. Dennis has recently taken a strong interest in dietetics, and wishes to transfer to San Diego State University, where he will continue to pursue his goal of becoming a registered dietitian.
TyaCamellia Allred was born in Indianapolis, Indiana, but was raised in Stockton. She is 20 years old and currently on her last semester at Delta before transferring to UOP. She is majoring in psychology and English with plans to ultimately earn a doctorate in psychology. She loves fast food, cartoons, horror movies and metal music.
Juan Ramon Pimentel was born in Michoacán, Mexico in 1987. Even though he did not finish his formal education in Mexico, this has not stopped him from pursuing his dreams of earning a degree in mathematics. After he graduates, he plans to become a math teacher in a middle school setting because of teachers who inspired him and encouraged him to believe in himself and to never give up.
Amanda Tamayo is a busy wife and mother. Passionate about education, Amanda is pursuing her dream of teaching preschool-aged children through art and music. She is currently in Delta College's Early Childhood Education Program. When not busy with school or home life, Amanda devotes much of her time to reading and writing. Amanda aspires to one day have a freelance writing business as well as run a small school centering on the arts.
Taylor Stuart is 25 years old and graduated in Spring 2011 with an Associates of Art degree in English. She works full-time for a contractor doing payroll and finances. When she has free time, she enjoys hanging out with her two dogs, Lily and Polly, and watching as many Lifetime movies she can get her hands on. She plans to one day get a bachelor's degree in English and hopefully teach at her old high school in Manteca.
Donald Kovis, born and raised in Stockton, California, went to Stagg High School before working in the circuitboard manufacturing industry. He then came to Delta College and obtained a Crystalline Materials Electron Microscopy certificate. He plans to pursue degrees in engineering and natural sciences at a four-year university.
Cara Rappuhn was raised in Mobile, Alabama, and recently moved to Lodi, California, with her husband and children. She is attending Delta College in hopes of completing her general education, so she can transfer to a university one day. Cara is a down-to-earth person who loves people, and never meets a stranger. She is currently working as a caregiver, and hopes to continue being able to make a difference in the lives of others. She likes spending her free time writing or being outside. She enjoys walking on the beach, or hiking in the mountains, but is happiest when she is curled up at home with a good book.
Tamara Piazza is married with five incredible children: Cierra, Ned, Steven, Linda, and Tanner. She began taking classes at Delta at the urging of a co-worker who would not accept any excuses from her about why she couldn't. Her husband and children have all been very supportive and proud that she is able to work full-time and maintain a 4.0 GPA. She is halfway to her goal of transferring to the University of the Pacific to obtain a B.S. in Business, and enjoying every minute of the journey.
Maximiliano Canales will be 21 on July 6. He came to this country in 2005, looking for a better future for his family. Knowing no English, he entered high school and worked hard everyday to become a better person and to pursue a future career to help his family back in Mexico. He says the following: "Ever since my mother's assassination, my life changed and my way of seeing life changed with it. My mother was working for a political party back in Mexico. Because of her beliefs and relationships she was killed. Since that time, I always keep in mind to help other people when they need it and care more about the people around me. I think education is one of the most important things in life. I always keep in mind what my grandfather once told me, 'If you are going to do something, do your best, if not, do not even bother.'"
Evangelina Lomas attended Merrill F. West High School in Tracy and was a cheerleader all of her four years. She is looking forward to her second year at Delta College. Her goal is to become a registered nurse with a focus on labor and delivery. She also has a strong passion for cooking. She enjoys reading books and listening to music but writing essays and poetry has always been her strong point.