Delta College Brand Standards
Delta College's Brand Standards help protect the brand identity of the college. The visual representation of a brand (such as colors, logos, typefaces, symbols) is known as the brand identity. The brand identity is what makes a brand instantly identifiable to the viewer. Correct usage of the Delta College Brand Standards will ensure that the viewers will recognize the materials as coming from Delta College.
Branding is more than just sticking a logo on a brochure. It is about defining what kind of experience we want our current and potential students, faculty, staff, alumni, friends and the public to have with our institution and what kind of reputation we want to build. It is our goal to establish and maintain visual consistency, which in turn supports a strong sense of identity and excellence for Delta College. Adherence to these standards will help build and maintain the college's brand image in a diverse marketplace of academic brands.
All departments and offices associated with Delta College must follow the Brand Standards. Any outside agency producing materials for Delta College programs, departments, or other entities must also follow these standards.
If you have any questions regarding the Delta College Brand Standards, please contact the Director of Marketing, Communications, and Outreach. If you would like to suggest a design that strays from the established guidelines, please send us the design concept for review and approval before it is produced.
Brand Standards
---
Logos
Logo (for light background)

Logo (for dark background)

---
Fonts
Click on the links below to view and download the fonts to your computer. You will also need to unzip and install the fonts to be able to access them.
If you need help installing these fonts, follow these Font Installation Instructions
---
Colors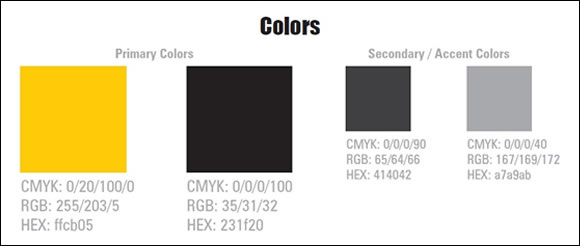 ---
Templates
Co-Branded Logo Templates
​​If you need help designing a custom logo, please fill out a Design Request Form
Presentation
Letterhead
---
Publication Center Orders