Visions In Clay 2022
Upcoming Events
Gallery Reception
Thursday, September 1, 2022 • 5 - 7 p.m.
Horton Art Gallery (Shima Center)
The Horton Art Gallery presents the 13th Annual Visions In Clay Exhibition, September 1 – 23, 2022. Admission to the Gallery exhibition and reception is free and open to the public.
Gallery Exhibition Hours
Monday – Thursday • 11 a.m. – 5:30 p.m.
Friday • 11 a.m. – 1 p.m.
Saturday, September 10, 2022 • 11 a.m. – 3 p.m.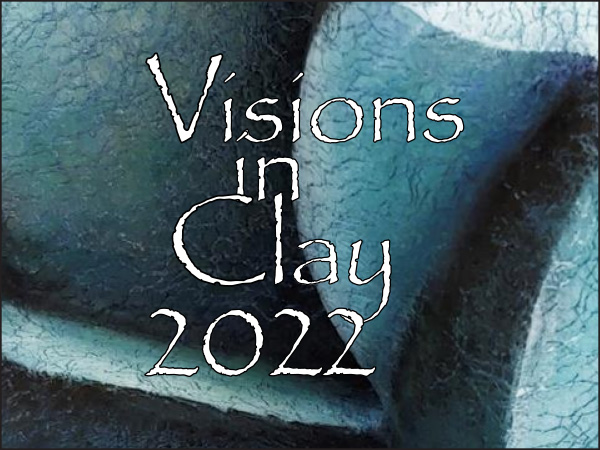 Rachel Gotlieb, Ruth Rippon Curator of Ceramics at the Crocker Art Museum in Sacramento, California, was this year's guest juror who selected the artwork and awards for the exhibition.  The awards were given for a body of work in four of the award categories. The fifth award for a Regional Artist was selected by Ceramics Professor, Shenny Cruces, and Sculpture Professor, Gary Carlos. The Regional Artist, Lorraine Bonner from Oakland, California, will present a  ceramic art demonstration and artist talk to the ceramics and sculpture students. The Gallery sponsors the awards from the $30 entry fee paid by each of the 66 artists who entered this  year's show, in addition to its sponsor, the San Joaquin Potters Guild for the Founders Award. 
The artwork in the exhibition and show awards selected by the juror was based on creativity,  quality of execution, unique content and form, as well as technical skill. Sculptural forms and exquisitely decorative functional works make up the body of the exhibition. This year's exhibit features 43 works by 28 artists from around the country, including Stockton native and 2019 Delta College graduate, Melodie Sidhu, who was selected by the juror to receive the San Joaquin Potters Guild Founders Award. Many thanks to the SJPG for its continuing support and funding this award each year. 
Visions In Clay was founded by the San Joaquin Potters Guild in 2002 through 2007, and turned over to the Horton Gallery in 2010 to continue presenting the ceramics-based exhibition. Visions In Clay is the largest exhibition of ceramic works in the San Joaquin Valley, and has been featured several times in the national magazine, Ceramics Monthly. It is an exceptional show of artisanship, diverse in form, style, and content. 
Visions In Clay Awards
Ahrong Kim, Best of Show $800 
Lorraine Bonner, 2nd Place $600 
Taylor Robenalt, 3rd Place $400
Melodie Sidhu, San Joaquin Potters Guild Founders Award $300
Lorraine Bonner, Regional Artist Demonstration Award $500
---
Exhibiting Artists:
(Click on photo/name for more information and details.)
To purchase artwork, please contact the Gallery: jan.marlese@deltacollege.edu
Rachel Gotlieb, Ph.D.
Ruth Rippon Curator of Ceramics
Crocker Art Museum
Exhibition Juror Rachel Gotlieb, Ph.D., is the first Ruth Rippon Curator of Ceramics at the Crocker Art Museum in Sacramento, California. The Crocker's international ceramics collection is one of the largest in the United States and includes works dating from prehistoric to con-temporary periods. Gotlieb, a leading ceramics specialist, oversees acquisitions, exhibitions,  and scholarship, and helps bring the collection to even greater prominence nationally and internationally.
Previously, Gotlieb was the Adjunct Curator and former Chief Curator at the Gardiner Museum of Ceramic Art, Toronto, where she advised on acquisitions and donations and lectured on 19th-century, modern and contemporary ceramics and design. Notably, she directed the installation of a monumental glazed ceramic sculpture in front of the Gardiner by artist Jun Kaneko; curated Piece by Piece (2015), the first museum presentation in Canada of acclaimed British ceramic artist Clare Twomey; True Nordic (2016–17), a landmark survey exploring more than seven decades of Nordic aesthetic influence on Canadian design, furniture, ceramics, textiles, metalwork, and glassware; and a major retrospective (2017–18) of Canadian artist Steven Heinemann who transformed the medium of ceramics in Canada.
Gotlieb holds a B.A. in Art History, University of Toronto; an M.A. in Design History, Victoria & Albert Museum at the Royal College of Art, London, and a Ph.D. in Art History from the Queens University, Kingston, Ontario.
Juror's Statement
Since the 1940s, California has played a central role in shaping ceramics as a major art form through influential teachers: Antonio Prieto at Mills College in Oakland; Ruth Rippon and Robert Brady at California State University, Sacramento; Viola Frey at the California College of the Arts, Oakland; Robert Arneson, at University of California, Davis; and Peter Voulkos at the University of California, Berkeley.
They skillfully showed how clay's plasticity lends itself to different techniques: wheel-thrown or hand-sculpted, earthenware or porcelain, and more importantly they demonstrated diverse conceptual approaches —from the functional, abstract, figurative, whimsical, expressive, and poetic to biting social commentary.
Visions In Clay, one of the largest gallery exhibitions of contemporary ceramics in Northern California, carries on this trajectory of the region being a fertile ground for clay—to borrow from the theme of NCECA 2022, held last March in Sacramento. As this exhibition reveals, participating artists located from all over the United States continue to explore these ideas foregrounded by their predecessors. Arguably, ceramic pedagogy is more open than recent past whether you choose to make a functional temmoku chawan (tea bowl) or a satirical ceramic figurine, no one school of thought dominates the field, underscoring the open and less dogmatic method of ceramic theory and practice, teaching, and mentoring.
Art jurying is never easy and making decisions about three-dimensional objects based on two-dimensional photography makes it even more challenging. From the 191 works submitted by 66 artists, I chose pieces that captured a variety of directions to illustrate the dynamism of contemporary practice. Specifically, I considered the artist's intention and quality of execution in my selections. Congratulations to award recipients, Ahrong Kim (1st), Lorraine Bonner (2nd), Taylor Robenalt (3rd), and Melodie Sidhu (SJ Potters Guild), and to all the exhibiting artists.
Ahrong Kim, originally from South Korea and who received her MFA at Rhode Island School of Design, conveys wit and emotion in her work. Serving as self-portraits, these beautiful porcelain dolls elevated on pedestal tables transformed into a potted plant or burdened with oversized headgear, critique the objectification of Asian women. The message is clear, do not demean and restrict Kim or any woman to decorative china vessels. African American artist Lorraine Bonner based in Oakland, came late to clay as a means of art therapy to unearth the personal trauma she experienced in her childhood. Today she sculpts powerful figures that speak to privilege, hunger, and slavery. Taylor Robenalt, like Ahrong Kim, fashions clay into what initially appears to be decorative sculptures but her seemingly friendly bears and rabbits are anthropomorphized and comment on societal and environmental issues. Finally, a shout out to Melodie Sidhu, a recent graduate of San Joaquin Delta College, who works very well in the familiar genre of the disrupted vessel. Her "screwed" pots pay homage to the custom of mending broken ceramics by imitating riveting and Kintsugi.
As in all award shows, there are never enough prizes to go around, and for this reason, I would like to make a special mention to some exhibitors who offered fine examples of their practice. Notably, Stuart Asprey's illustrative black-and-white tableware featuring superheroes and other popular culture imagery is clever and well executed, while Jeff Downing's narrative ceramic reliquaries that honor our endangered rivers and lakes are convincing and poignant. Lastly, I admire Ianna Frisby's astounding synthesis of clay, mixed media, and found objects resulting in wondrous neo-Victorian punk assemblages that conjure memories and traces of the past.
Visions of Clay 2022 demonstrates that the medium of ceramics be it sculptural, figurative, or functional is alive and well. Once again, congratulations to all the exhibitors on submitting such remarkable ceramic artwork.
— Rachel Gotlieb