Visions In Clay 2023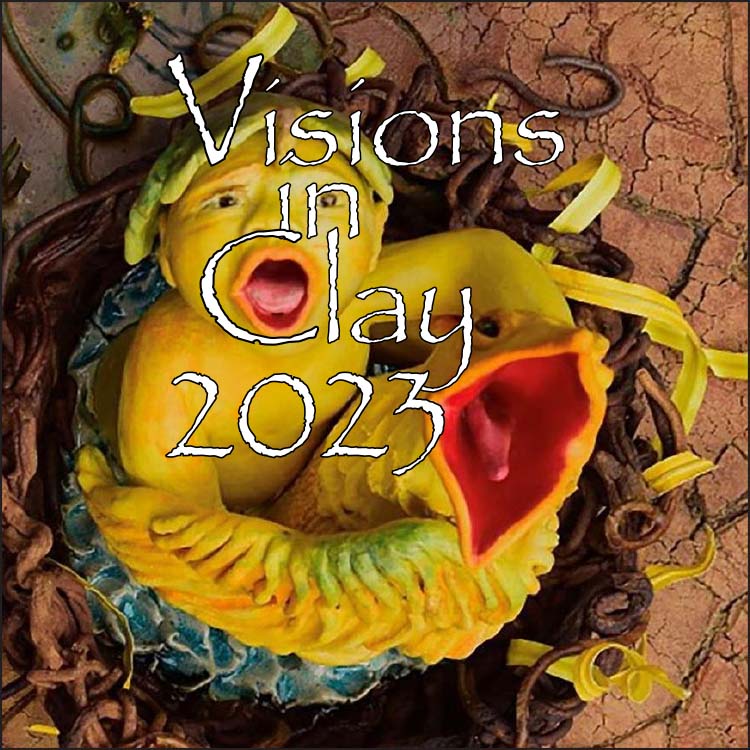 Upcoming Events
Gallery Reception
August 31 • 5:00 – 7:00 p.m..
Horton Art Gallery (Shima 144)
Virtual Reception
Saturday, September 9, 2023 • 11:30 a.m. – 12:30 p.m. 
Event Recording
Gallery Exhibition Hours
Monday – Thursday • 11 a.m. – 5:30 p.m.
Friday • 11 a.m. – 1 p.m.
Saturday, September 9, 2023 • 11 a.m. – 3 p.m.
The Horton Art Gallery presents the 14th Annual Visions In Clay Exhibition, August 28 – September 21, 2023. Admission to the Gallery exhibition and reception is free and open to the public.
This year's exhibit features 55 works by 46 artists from around the country, including five Delta College Alumni students: Abraham Alvarez, Bonny Barker, Samantha Holcomb, Zoe Nelson, and Melodie Sidhu. We are all so very proud of our Delta art students - Go Mustangs!
Joan Takayama-Ogawa, Professor of Ceramics and Product Design at Otis College of Art & Design in Los Angeles, was this year's guest juror who selected the artwork and awards for the exhibition. The awards were given for a body of work in three award categories (Best of Show $800, 2nd Place $600, 3rd Place $400) sponsored by the Horton Gallery Foundation, and the San Joaquin Potters Guild presents a $300 Founders Award each year, also selected by the juror. There is a fifth award for $800 funded by San Joaquin Delta College for a Regional Artist-in Residence selected by Ceramics Professor Shenny Cruces. The Regional Artist will present a ceramic art demonstration and artist talk to the ceramics and sculpture students. The awards will be announced at the Opening Reception on Thursday, August 31st.
The artwork in the exhibition and show awards selected by the juror was based on creativity, quality of execution, unique content and form, as well as technical skill. Sculptural forms and exquisitely decorative functional works make up the body of the exhibition.
Visions In Clay was founded by the San Joaquin Potters Guild in 2002 through 2007, and turned over to the Horton Gallery in 2010 to continue presenting the ceramics-based exhibition. Visions In Clay is the largest exhibition of ceramic works in the San Joaquin Valley.
Visions In Clay Awards
Bonny Barker, Best of Show
Joe Schumacher, 2nd Place
Suhn Lee, 3rd Place
Lois Harbaugh, San Joaquin Potters Guild Founders Award
Ianna Nova Frisby, Regional Artist-In Residence Award
---
Exhibiting Artists:
(Click on photo/name for more information and details.)
To purchase artwork, please contact the Gallery: jan.marlese@deltacollege.edu