About the Child Development Center
The Campus Hazel Hill Child Development Center provides quality childcare and educational services to eligible children, with a priority given to eligible Full-time Delta College Students and Staff. The Center is licensed to provide services to 144 children 18 months to 5 years of age.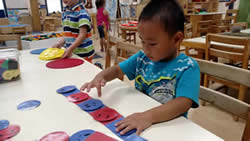 The Center provides:
Optimal learning environment for early childhood education, nursing and other disciplines
A lactation room is available for student, staff, and faculty use
Volunteer Opportunities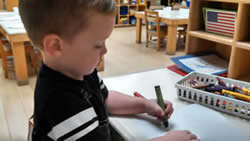 We have availability for Federal Work Study Students.
Adults/Parents volunteering in the classrooms or participating in the Center activities must provide documentation of immunizations for Measles (MMR), Pertussis (TDAP) , COVID-19, and be fingerprinted, TB Tested and cleared prior to volunteering.
Child Care Funding
The Center is funded by the State Department of Social Services; General Child Care for Toddlers (18-36 mos) and the State Department of Education for California State Preschool for children 3 to 4 years of age. All Families are ranked based on the family size and household income. Some families may have a fee for services based on their income.