Nine weeks to a new career with Delta's certified nursing assistant program
LODI -- Community members can quickly start a new career in the medical field by enrolling in Delta College's revitalized certified nursing assistant program, now held at the Lodi Adult School. 
The program takes just nine weeks to complete. 
Applications open Nov. 1 for two sessions in the spring. The first session runs Jan. 10-March 11. A second session is tentatively scheduled to begin March 28.  
To apply starting Nov. 1, visit deltacollege.edu/cna.
"This is a great opportunity for students to enter the workforce after just nine weeks of training, and begin a new career as part of the health care community," said Lisa Lucchesi, dean of Health and Fitness at Delta College. "We encourage everyone to consider our new and improved CNA program. It could open up new possibilities in your lives."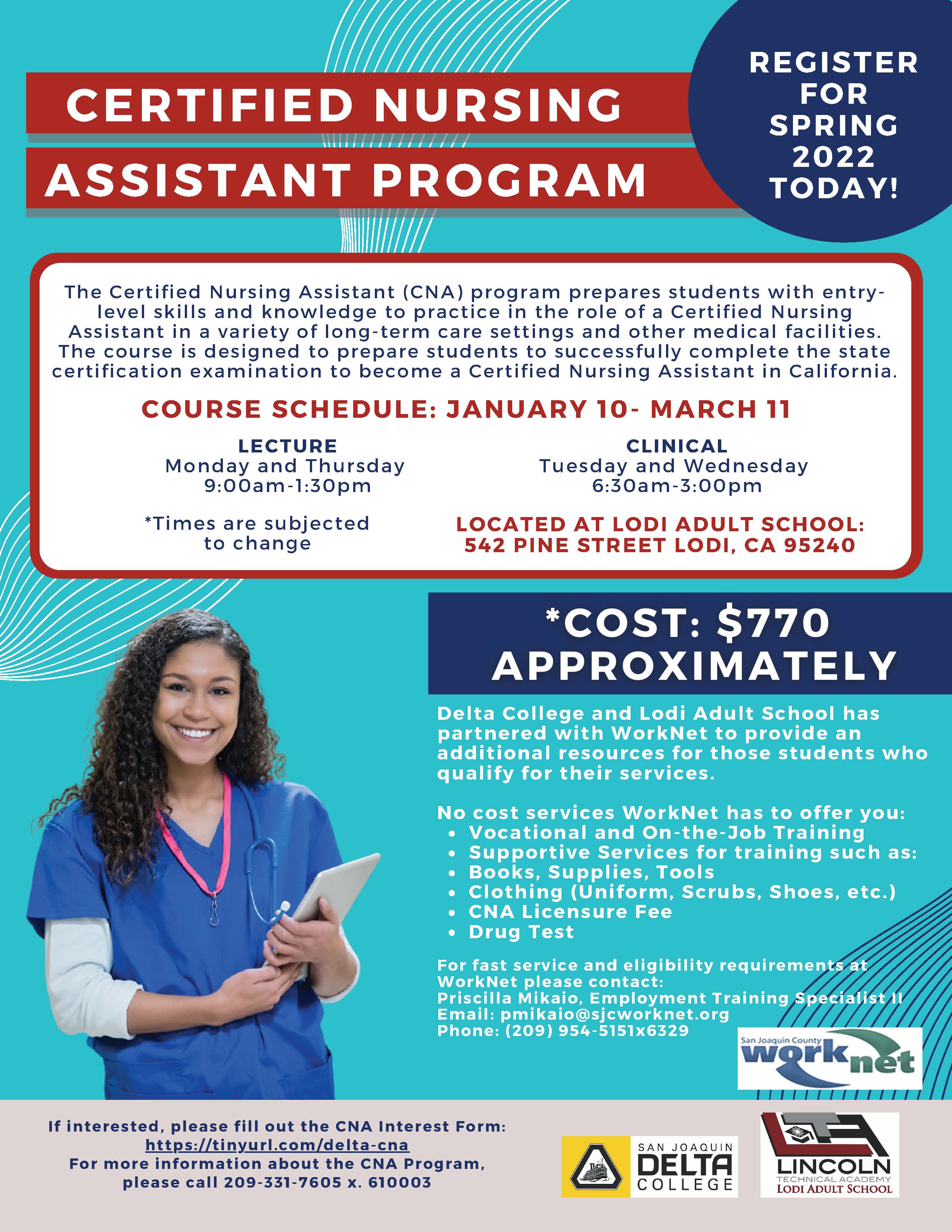 Delta has had a certified nursing assistant (CNA) program in the past, but that program has been on hiatus during the pandemic because students were not able to visit medical facilities to complete their clinicals. 
The program is back, and for that first time, it will be offered in partnership with the Lodi Adult School. Lecture classes will be offered at the Adult School on Mondays and Thursdays, with clinical work tentatively scheduled for Tuesdays and Wednesdays. The total workload is 25-plus hours a week. 
The program will also now be offered twice a semester rather than just once a semester. 
Not only is it just nine weeks to complete, but the CNA program is a way to get a foot in the door of a medical career by gaining entry-level experience in hospitals, care homes or other medical facilities. If they choose, after they finish the program students could go on to pursue a nursing degree or other advanced healthcare training.
Lodi Adult School has already designed a clinical room with all of the needed equipment. Now it's just a matter of finding students.
"We are excited to offer a CNA program in partnership with Delta College," said Julie Jansen, principal/CTE director at Lodi Adult School. "This opportunity will allow Lodi Adult School to serve those who are looking to start a career in the healthcare field while meeting the needs of our local healthcare facilities and community."
Certified nursing assistants are like the eyes and ears of registered nurses. They provide basic care, observe how patients are doing and share that with the rest of the healthcare team.  
The starting pay for these jobs in San Joaquin County can range from $16 per hour to $20 per hour. Projected job growth in the region is strong, with hundreds of openings each year. 
Anyone can apply to Delta College to participate in the program. But one of the advantages of partnering with the Lodi Adult School is that CNA will now be easily accessible to working adults. If needed, they can also obtain their high school diplomas while earning their CNA certificate.
The cost of program including classes and supplies is $770. However, students in need can apply for Financial Aid or assistance from WorkNet to help defray those costs. 
More details: www.deltacollege.edu/cna