A heart for nursing: The story of Honey Ong-Licudine
Editor's note: Sam Allen is a Delta College student and a writer in the College's Office of Marketing and Communications. In this piece, Sam shares about a chance encounter with another Delta student who reminds them – and all of us – that it's never too late to help others.
Honey Ong-Licudine is a storyteller.
I first run into Honey when she's sitting on a bench outside of Delta College's Goleman Library. It's sweltering, and Honey and another student have quietly found a space that isn't going to burn their skin off. She's wearing glasses, and her hair is parted to the side. She looks like she might be in her mid-30s.
"I'm going into nursing because of my brother," she tells me.
I sense a story there, so I ask her to elaborate.
"Well, my brother Edwin had heart failure." I feel a lump forming in my throat. My father died of the same condition a few years ago.
"I'm so sorry to hear that," I say, and tell her about my dad. There's something of a kinship among people who've lost their family members too early – even though my dad was 76. Doctor Christina Yang of the TV series Grey's Anatomy calls it "the Dead Dads Club." Other names I've heard too, but because of my dad, I'm particular to her club's name.
"Oh, I'm so sorry!" Honey says. "My brother was only 36 or 37 when he died."
"Wow, I'm sorry too. That's young," I say. We both pause, taking in the ghosts of lost family members. Finally, I remember that she told me her brother inspired her to go into nursing. "How are you going into nursing because of him?"
"Well, I feel a connection to nursing," Honey says. "I feel like whenever I'm studying about the heart, I'm connected to him." 
More and more students arrive in front of Goleman. I filter around, chatting with one and then another. Just before my boss, Alex Breitler, asks us to all gather in a circle and introduce ourselves, I approach Honey one more time. She has such a compelling story that I want to interview her more.
"Sure! I want to do everything I can to educate and empower people," she says.  She writes down her contact information in neat handwriting, and we start our day of photo shoots and video interviews.
The Marketing team and I meander through the Delta campus, pausing near the bronze musicians statue outside of the Holt Center to do an interview, and outside of SCMA (Science and Math Building) to pose as a group. I take notes, engage the students, and hold our photographer's flash generator.
With the bustle of the day over, I rest. Later, I remember Honey's touching story, and I'm intrigued all over again. 
A few weeks later, I email her.
"Yes, sure!" is her immediate response. "Here are some times that I'm available."  Honey even leaves her phone number for me in case I need to reach her before our meeting the next week.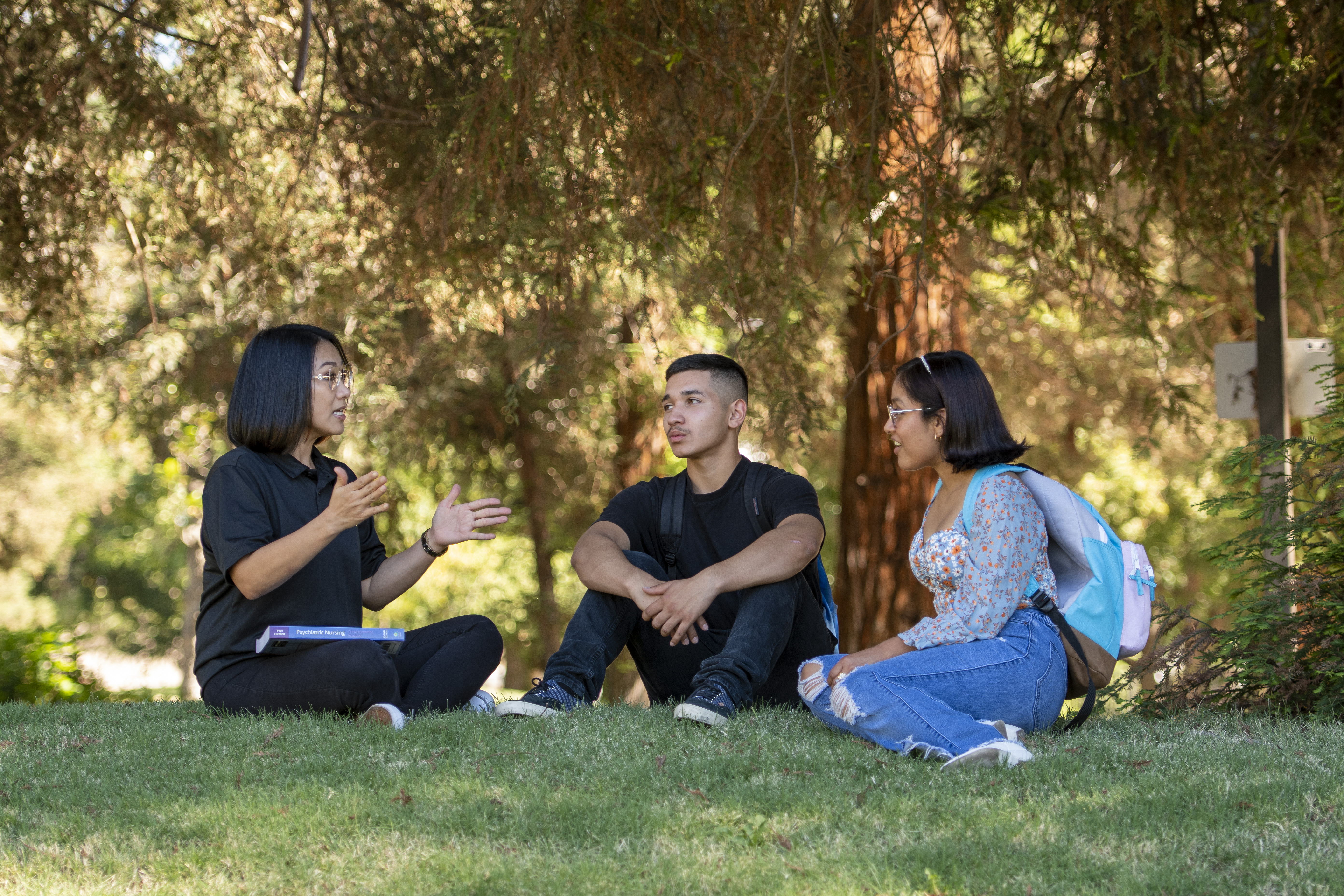 Honey Ong-Ligudine chats with other Delta College students.
We meet via Zoom on a windy November afternoon.
It turns out that Honey is married. She and her family have faced a series of heart-related medical conditions, starting with her father, who lived in the Philippines.
 "The Philippines is a poor country," she says. "There isn't enough patient education compared with America. At first, my father just went into the ER because he couldn't breathe. He thought it was congestion, but they gave him an EKG (electrocardiogram) and it showed that he had had a heart attack." 
Three months later, Honey's older brother Edwin, who was her father's caregiver, began experiencing the same symptoms as her dad. When he went to the ER, the family found out that his liver and kidneys had been affected, and the family also found out that he had Type 2 Diabetes. That surprise diagnosis shocked the family, and they banded together to help him.
Although Edwin could pay for his healthcare thanks to his siblings, he eventually died of his health conditions. 
"He helped me to learn how to drive and helped me with my homework when I was growing up," Honey says. "And then he inspired me to look into our family history and see what had happened."
Genetics is what Honey was thinking about. Shortly before his death, Honey flew from California back to the Philippines to be by his side.
As Honey held her brother's hand a few days before he died, her brother told her: "I know this is difficult for us, but if you can, help other people.  Why not?"
"I had no plans to become a nurse at that time. Nothing," she says.  "Until he told me about that.  And then, later, a friend of mine was telling me that she just got into the Delta nursing program. I believe in signs. Maybe that was his message to me."
Honey realized something: even though she couldn't help her family members who had died from heart disease, she could help other families. And help future generations.
Honey decided to become a nurse.
"Studying cardiac reminds me of my brother. He's telling me something in my heart to help people. This is what my brother told me, and I'm going to do it," she says.
Honey's curiosity – and her connection to her brother – is probably why she can look at an EKG and already know exactly what's going on in it. Kind of like how her intuition told her that genetics was the reason behind her family's heart disease.
With curiosity and determination, Honey began to take the courses that would prepare her to enter the nursing program. Having spent 14 years working in education, she was no stranger to school. Plus, she volunteered with youth who have mental health challenges teaching them basic manners, like "please" and "thank you," so that they could succeed in the world as adults. 
Why not try this, too?
Honey got into Delta's nursing program. Her friend told her, "Hey, this is nursing," meaning that it would be strenuous.  Honey didn't believe her.
"Do you know how when you sign a contract, there's the fine print?  Well, when I signed the contract, I forgot to read where it said, 'You have to give up your social life," she laughs. "When I got into the program, I was like, 'Oh my God. My friend was not lying.'"
"I told my family when I started the nursing program, there are things that I may not be able to do.  My family supports me, and I'm so thankful that they're very understanding, and they help me with chores.  Little things like chores give me a lot of time to focus on my homework."
How else does Honey cope?
"I also have my classmates, who are there for me. If I'm stuck, I can go to them and say, 'Hey, for this homework, I don't understand these instructions. Give me some ideas.' We're there helping each other. My family and my friends really are my support system right now.
"I'm looking forward to May, because I can't wait to get this thing done."
After May, Honey has to study.  The nursing program at Delta has four semesters worth of classes, each of which has a comprehensive exam attached to it. Imagine finals, but on steroids.
After that, she'll be certified as a nurse.
Where does she want to work?
"Well, at first I was thinking of psychiatric nursing since I've helped young adults with emotional problems.  But no matter how much, I try to divert my direction to psychiatric nursing, something always me brings me back to cardiac."
"I know that I want to work for St. Joseph's cardiac unit," says Honey. "It's close to home – why spend one hour, two hours out of your day commuting?"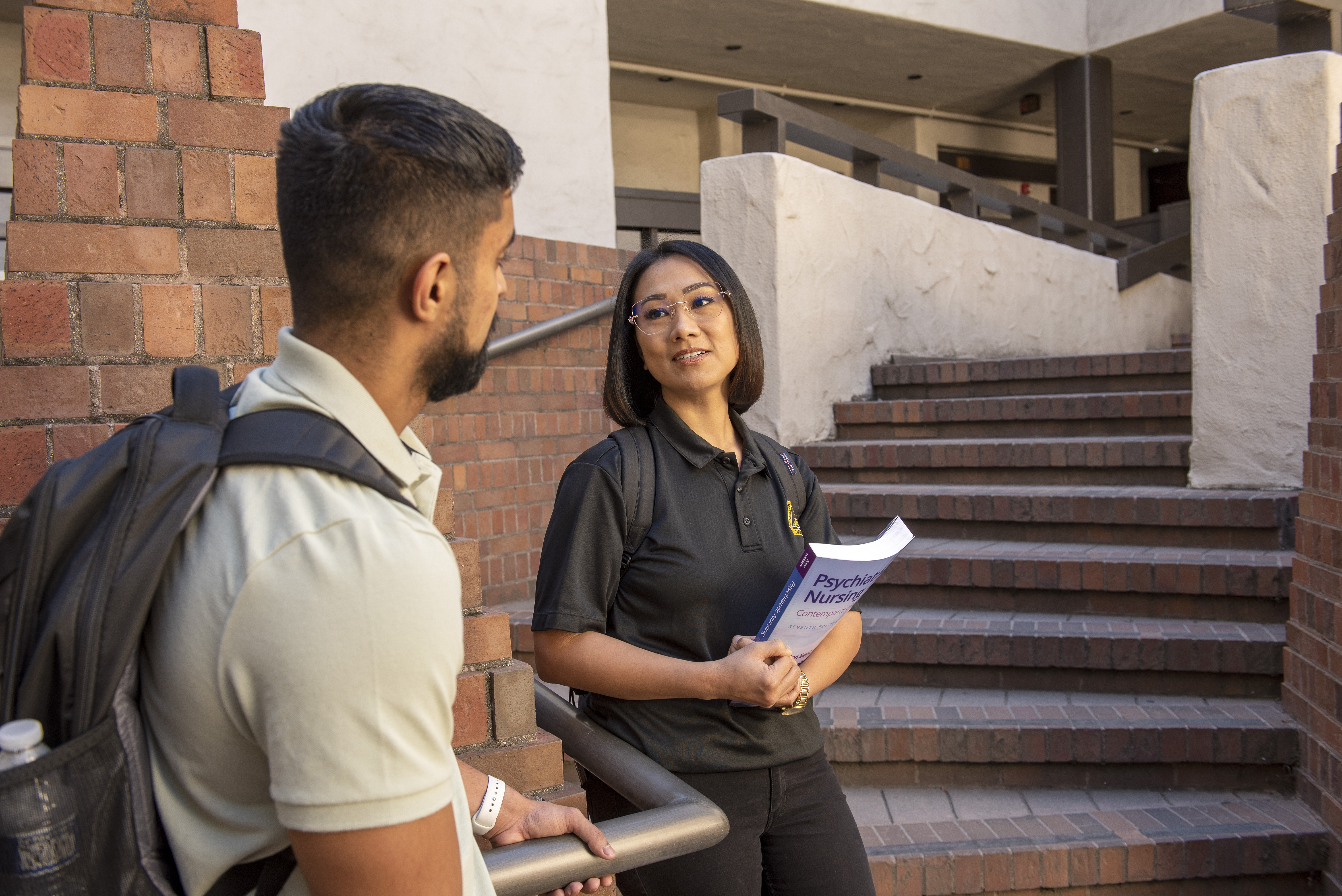 Our Zoom session falters – my connection is down for a while.
Once we're back on, Honey, gracious and funny as always, continues. She tells me the story of discovering her husband's heart condition, thanks to the great team at St. Joseph's. How she is passionate about modeling coping strategies for young people with mental health challenges. How she came to the United States as an undocumented immigrant in order to have more opportunities as a woman. How she taught herself how to read English one word at a time. How she can now give presentations to her classmates, and about how they understand her every word.
I could go on. Honey is full of inspiring stories.
But let me end my story with one more quote.  Near the end of our conversation, Honey told me this. 
"Education is never too late for anybody. No matter what your past is, no matter what your previous job is. No matter how old you are. No matter how difficult the financial situation you're in. If you want to change your career, you can do it.  Especially at Delta."
As an adult learner returning to college myself, I find myself getting a lump in my throat again.
Educating and empowering. Honey's stated mission when I first met her in the shadow of the Goleman Library.
And here she is now, doing it for me .
As I leave the interview, I end up thinking about having the courage to pursue my own dreams.  Edwin's words echo in my ears, too:
Why not?