Giving back: Delta responds to Camp Fire disaster
She could have been sleeping in her own warm bed on the night before Thanksgiving. Instead, Delta College nursing Professor Nicole Porter stayed up all night taking care of patients at a fire evacuation center in Butte County.
It would be easy to despair in what she saw. Outside the church, a frigid rain fell, so much that Porter had to wring the water out of her hair. Inside, hundreds were sleeping on cots – or at least trying to.
Porter vividly recalls an older man sitting in a rocking chair at 2 a.m., glued to television news footage of homes burning in Paradise. He was watching the destruction of his own town. "It was surreal," Porter said. "You get older, you're supposed to retire, you're supposed to wind down and now you have nothing." 
Yes, it would be easy to despair in what she saw, but Porter found encouragement, too. A full medical team was on site, with doctors, nurses and even a pharmacy. She was able to treat patients and provide them with the care they needed at their most vulnerable time.
And she took heart in the assistance she received from her Delta College family.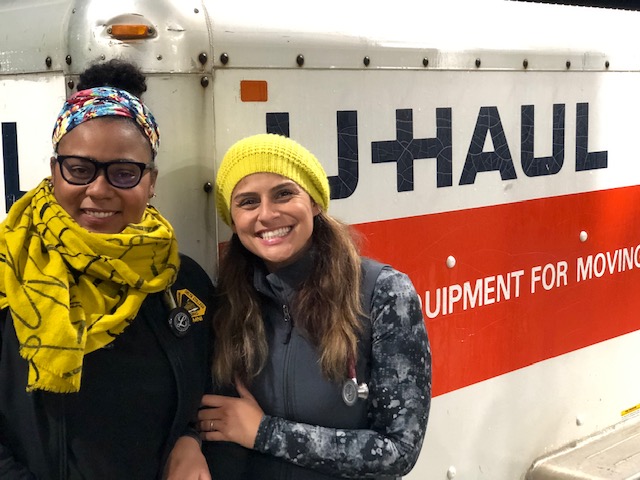 Delta College nursing Professor Nicole Porter, left, with Gemekia Morales. Both nurses graduated from Delta College 10 years ago, and both assisted fire victims in Butte County last week.
Delta comes through
Porter had announced to campus that she would accept donations for fire victims and distribute them during her visit to the shelters.
She planned to pick up the donations in a college parking lot on Wednesday. But campus was closed. It was raining. It was the day before Thanksgiving. Would anyone show up?
At first she hoped they would collect enough items to fill the back of a friend's truck. Then it became apparent they would need a trailer. Then they needed an even larger trailer. Counselor Rocky LaJeunesse and nursing Professor Mary Neville were among those willing to get a little wet to get the job done.
"The response was overwhelming," Porter said. "People were sending their husbands to drop things off. People were sending their wives to drop things off. It was non-stop."  
After serving the people in the shelters and distributing the Delta donations, Porter arrived home Thanksgiving afternoon, tired but happy to have helped a community during its darkest hours.
"When we have much, we definitely have to give back," she said. "I felt like going up there really made my Thanksgiving all the better."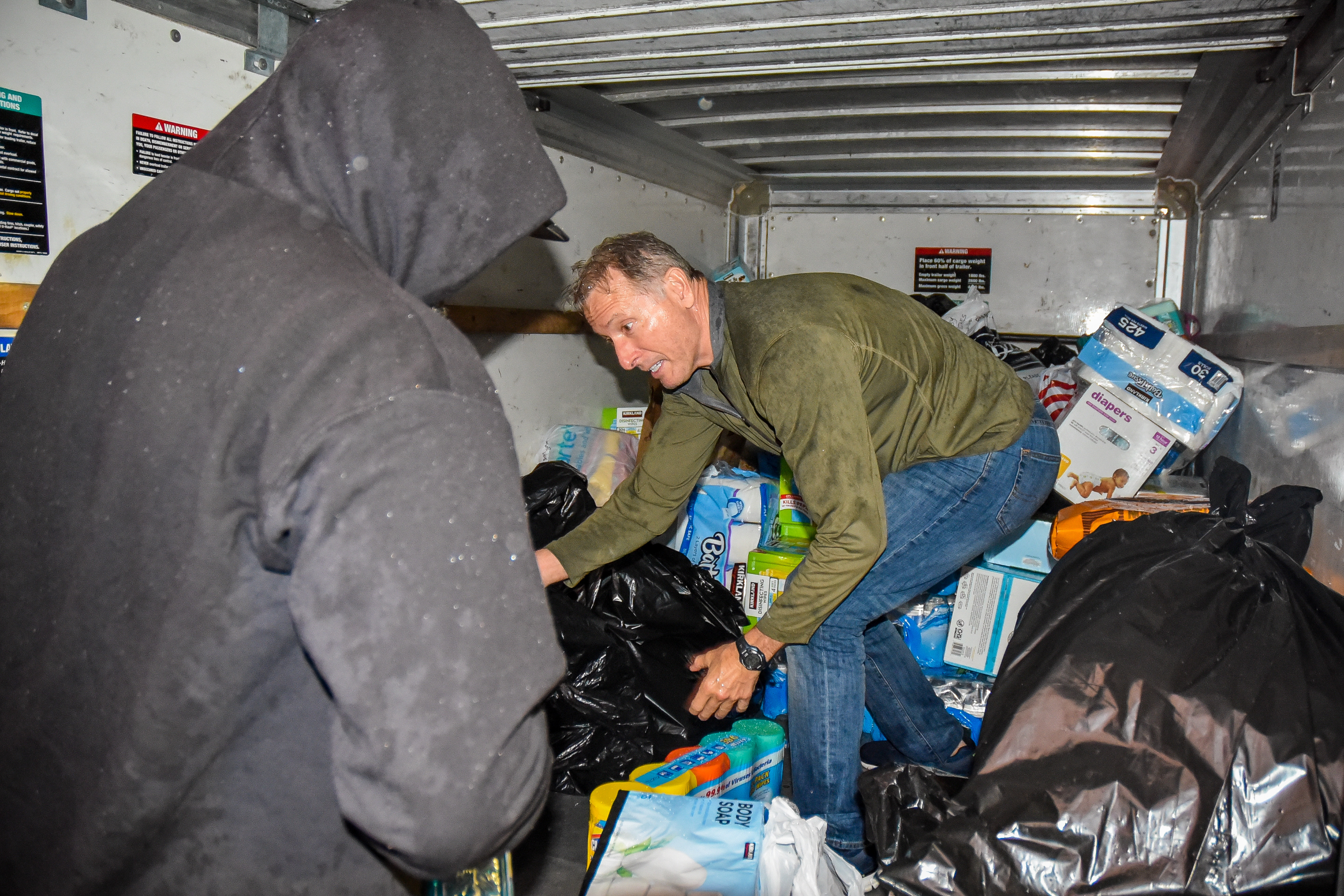 Delta counselor Rocky LaJeunesse helps fill a trailer with donated items.
It doesn't end there
Porter wasn't the only Delta College representative to head north over the holiday break. Culinary arts Professor Mark Berkner was one of many chefs to prepare 15,000 Thanksgiving meals for fire victims at four separate locations. He urges the community to support World Central Kitchen which will continue providing meals for weeks to come.
Political science Professor Cirian Villavicencio spent a day over the weekend serving lunch to fire victims, and also helped out local sheriff's officials by ferrying two families to evacuation shelters in the nearby town of Gridley.
And the San Joaquin Delta College Teachers' Association donated $10,000 to relief efforts, with $5,000 going to Butte College facuty and staff and the other $5,000 going to students there.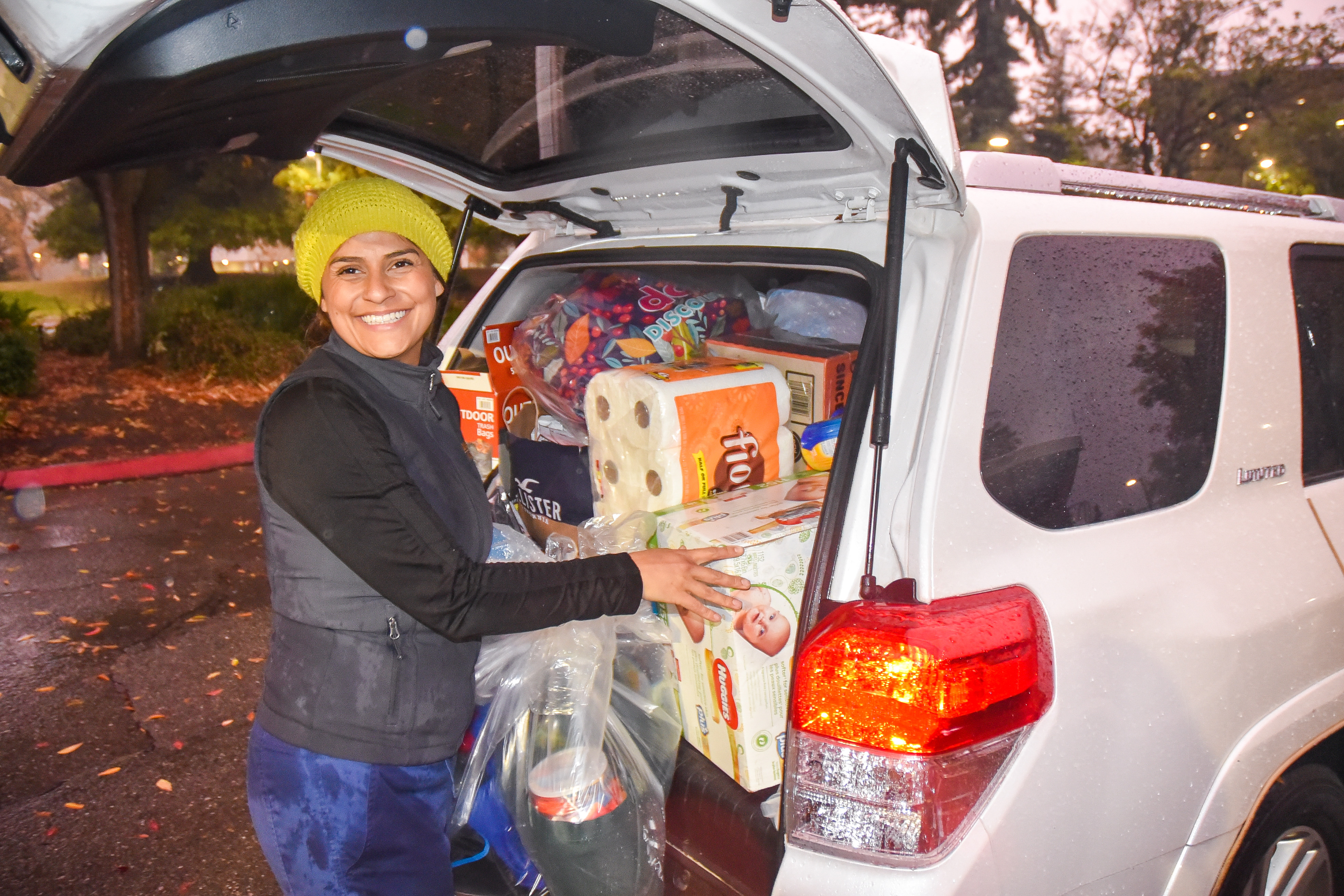 Gemekia Morales, a graduate of Delta College's nursing program, collects donated goods.
You can help, too
Here are just a few of the other ways you can help victims of the Camp Fire and other recent California wildfires:
• The Delta College Police Department has announced its own donation collection drive. Donations (no cash or used clothing) will be accepted from 9 a.m. to 5 p.m. on the following dates: Nov. 30 to Dec. 3, Dec. 5, Dec. 7 to Dec. 10, Dec. 12 and Dec. 14. Drop off donations in the area next to the police vehicle parking lot.
• The Foundation for California Community Colleges has established a fund specifically for community college students and staff who have been affected by the fires. More information here.
• Mayor Michael Tubbs is urging every Stocktonian to donate at least $1 to the American Red Cross. The effort has been dubbed "Stockton Helps Paradise." More information here.