Some honor their cultures. Some honor their families. Some celebrate children who are just coming into the world, or mourn loved ones who have recently left it.
Delta College grads were recently invited to decorate their caps and share the stories behind their artwork. The results paint a picture of a diverse College with students from all walks of life, pursuing all manner of dreams. Collectively, these caps represent the story of Delta College itself.
Here are just some of the photos and stories that graduates submitted, in their own words. (Note: Some submissions have been edited for brevity or clarity.)
Juliana Torres
I have chosen this design for my graduation cap because I have overcome almost every struggle life has thrown at me. I have dealt with cultural trauma, poverty, childhood abuse, PTSD, learning disabilities, mental health problems, and now my first pregnancy.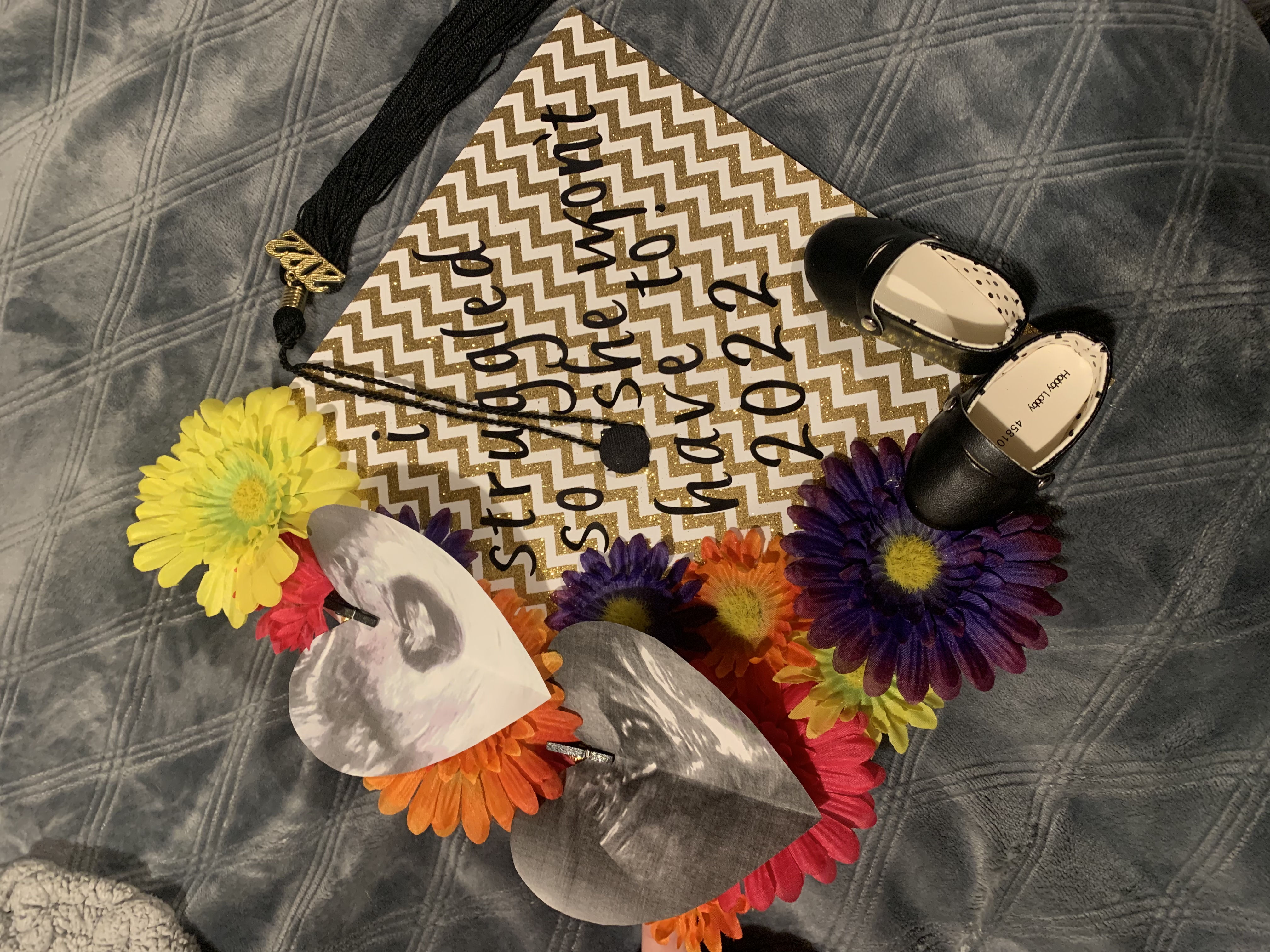 There were times where I felt I was not good enough to achieve anything and people kept telling me it just takes time. I have pushed through and learned how to cope and recover from all of these struggles, while also committing as a full time student.
The quote "I struggled so she won't have to" means that all of the struggles that I had to face, my baby girl won't have to. I have overcome my struggles so I can give her a life that she loves. Any struggle she may face, I can help her through and when she doesn't believe she can accomplish anything, I can show her that I was able to face all of these struggles and graduate when I didn't think I could. Accomplishing this will help me follow my dream into a career that will also make sure she doesn't have to grow up in poverty like I had to. I will be able to give her the life she deserves. So, I struggled so she won't have to.
Stephany Joy Aguada
On to my next adventure means that it's not over yet. I have to embrace whatever life and the universe throws at me. I put my family's picture there.
The top picture is my mom, dad, two brothers, my daughter, and me, and the left side is my daughter and my husband. Of course, I dedicated this achievement to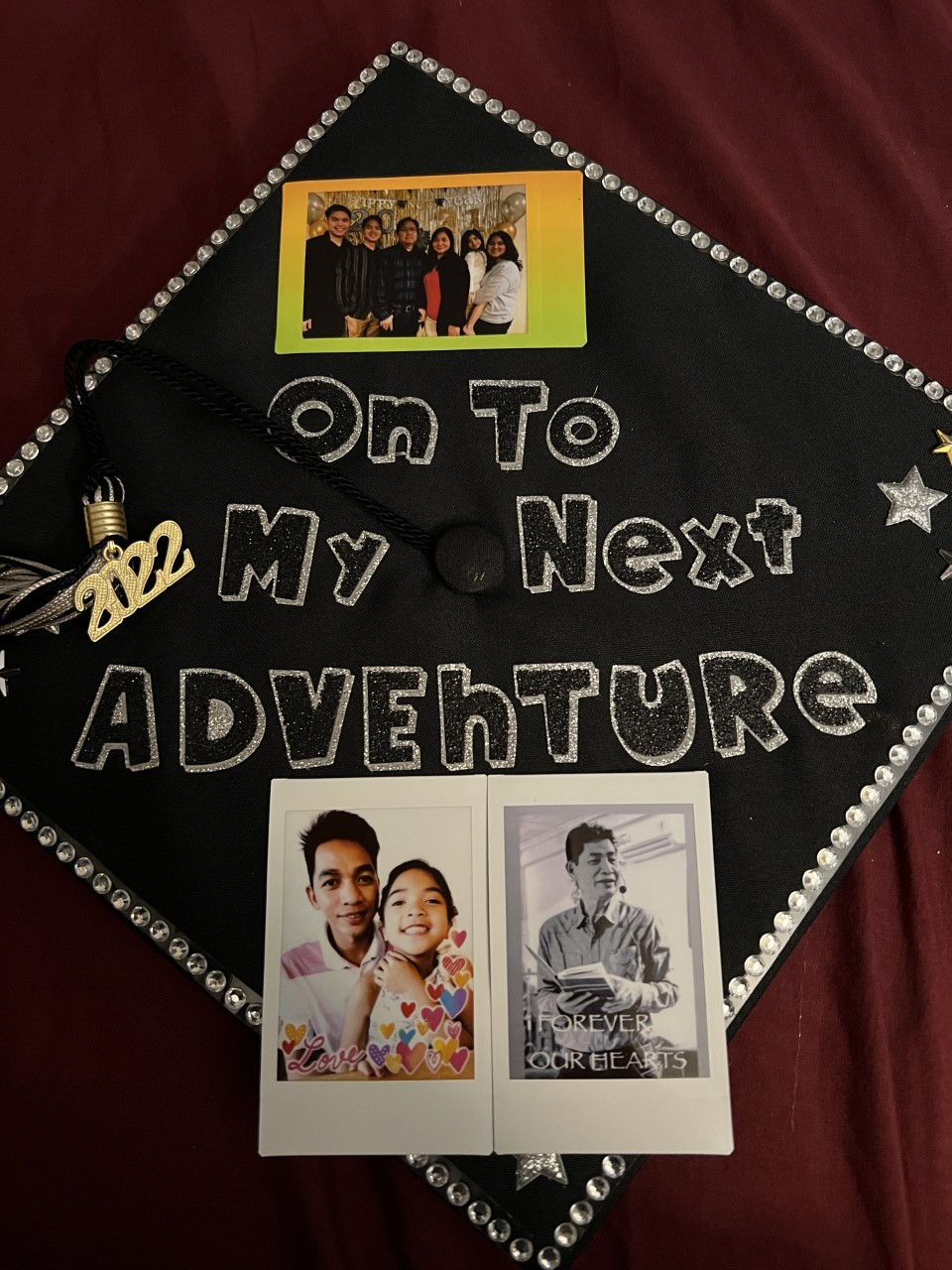 them.
Also on the right side was my uncle, who passed away just last month. I have grown up with him since I was a kid. It hurts that he's not able to see me and attend this event. But I do believe that right now he is so proud of me and whatever achievements I have made, so if you are hearing this, daddy, I will love you forever, even though you're not here physically.
You're in my heart forever, and I thank you for all you have done since I came here to this world.
I love you and I miss you so much.
Alma Rodriguez
I decorated my cap this way because I'm the first one to graduate from my family. I'm the first generation to ever graduate high school and college, and I want to make sure I'm the first one but not the only one.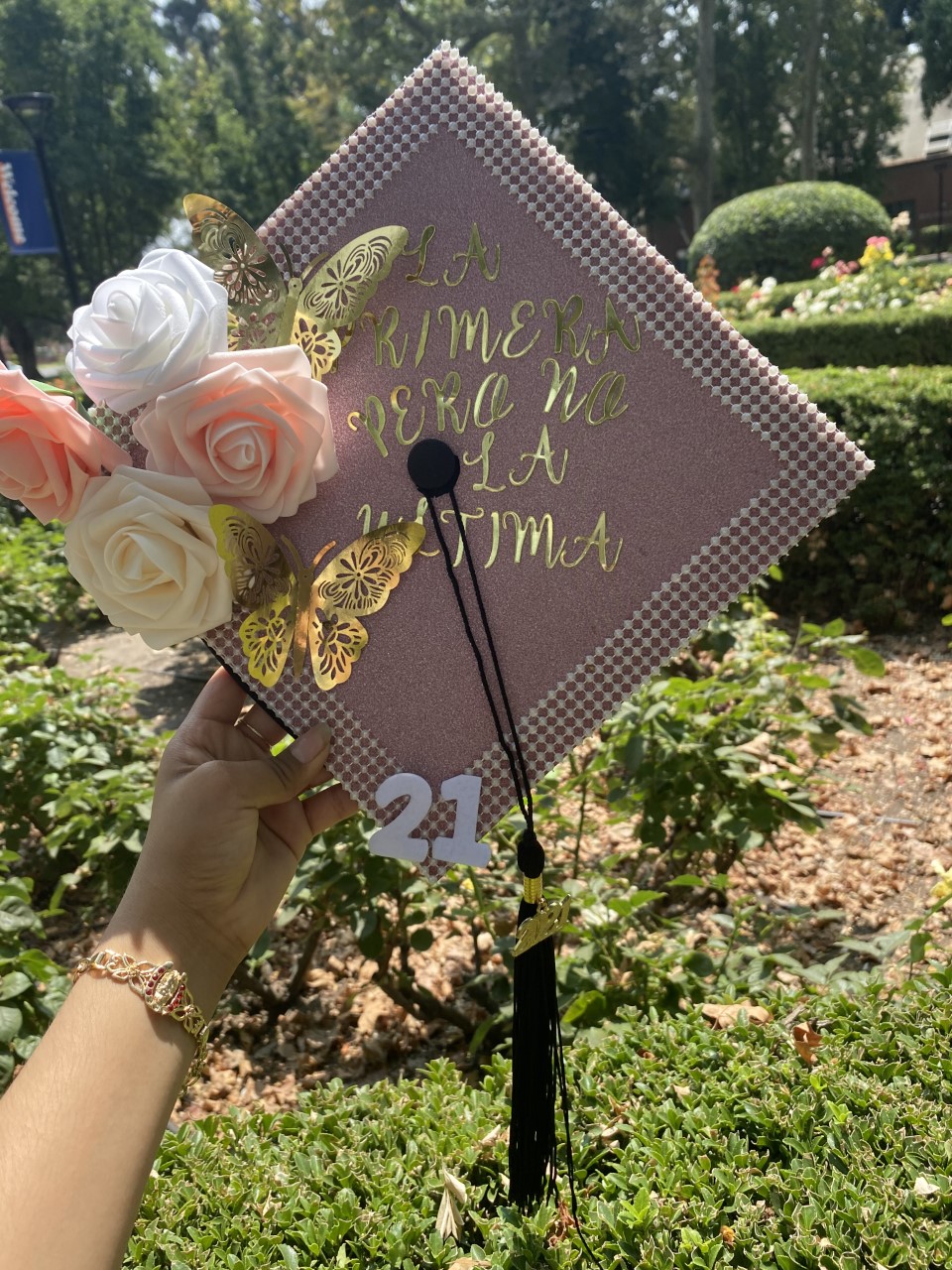 Brittany Di Somma
For my graduation cap, I decided to create the image of a maple leaf. A maple leaf symbolizes balance, love, and abundance, but more importantly it represents my home. I was born in Canada, and when I first started my journey here at Delta College, I was not an American citizen.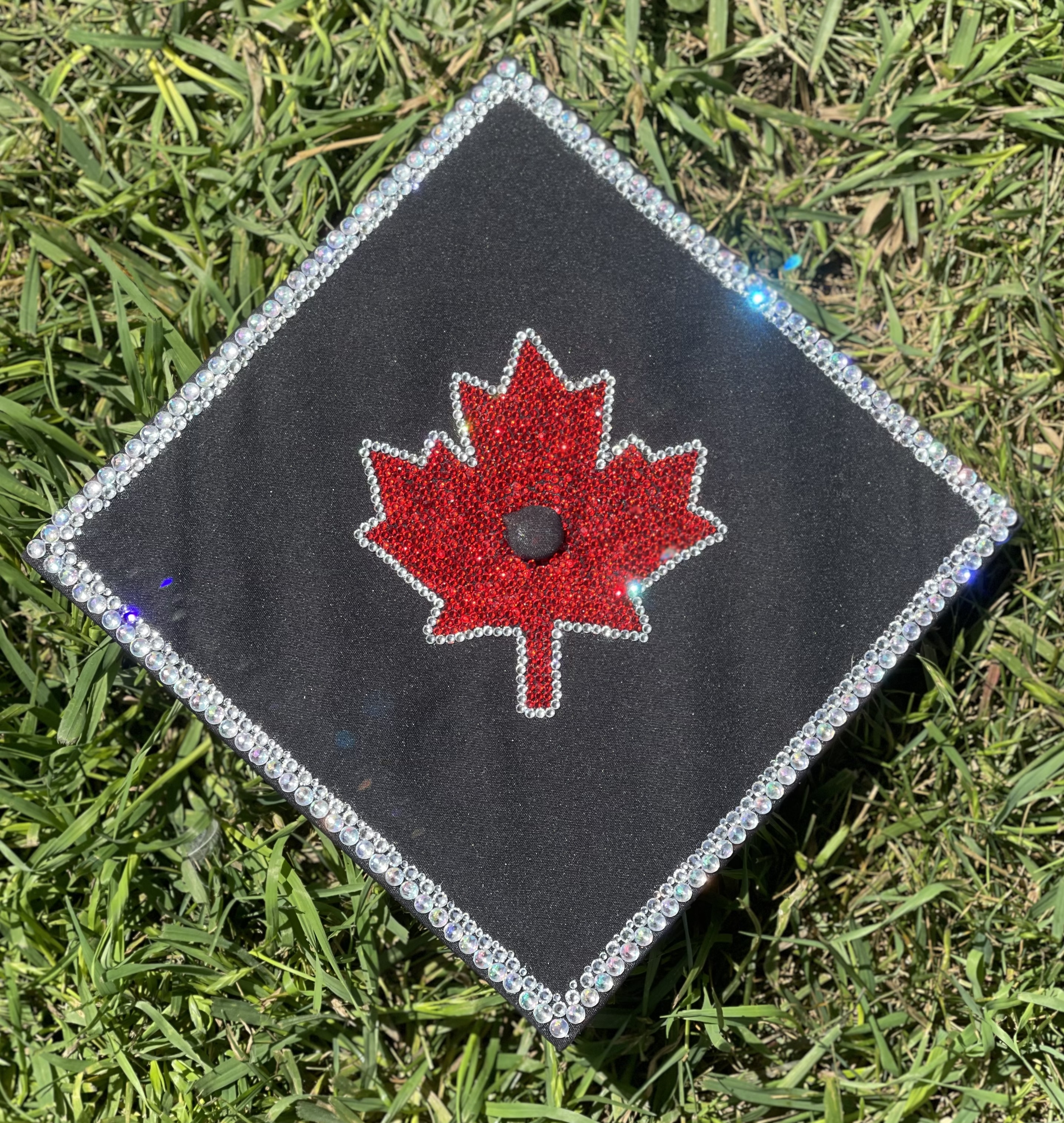 I faced many challenges because I was undocumented, such as tuition, money for books, finding a way to school, and being able to work. I overcame these challenges when I finally became a naturalized American citizen, which helped open up my path at Delta College even more. For a while, I was ashamed because being from somewhere else made my life so difficult, but now when I look at a maple leaf, the symbol of my country, I remember how strong and resilient I am, and that no matter how many challenges come my way, I will make it through.
I spent 8 hours creating this maple leaf with tiny red rhinestones, but it is worth it because I am proud to represent who I am and who I've become on my journey at Delta. It will teach me to never give up in my future because I didn't give up then.
Ashley Bugarin
My graduation cap was designed as an inspiration to the hard work and dedication I put in while being a single mom and working full time.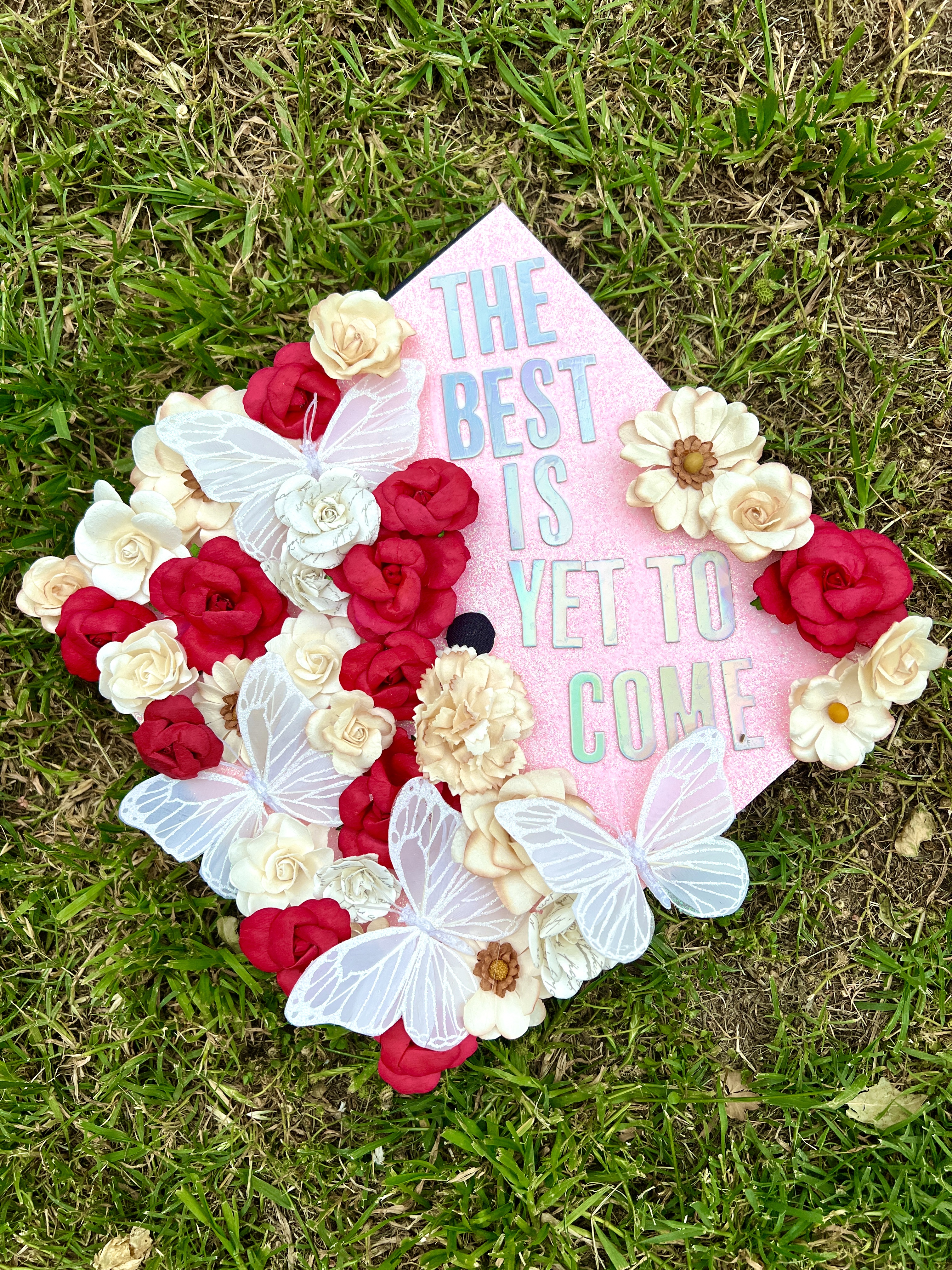 At times I wanted to give up especially during the pandemic and loss of income but I always saw the finish line and could not give up on myself or my son. I am choosing a future for us and I want to strive to be an example for my son and others to never give up on education and to always continue to learn. I learned that learning is endless and now I am graduating at San Joaquin Delta College with two AS and an AA degree. I am a current student at California State University, Sacramento and without the help of SJDC I would not be where I am today.
So yes, the best is yet to come and this is just the beginning.
Class of 2022 and PROUD.
Julissa Tong
I decorated my cap with diamonds and pearls because my grandfather passed last month, and he loved collecting them when I was a little girl.
This is him being part of my big day.
Gloria Diaz Garcia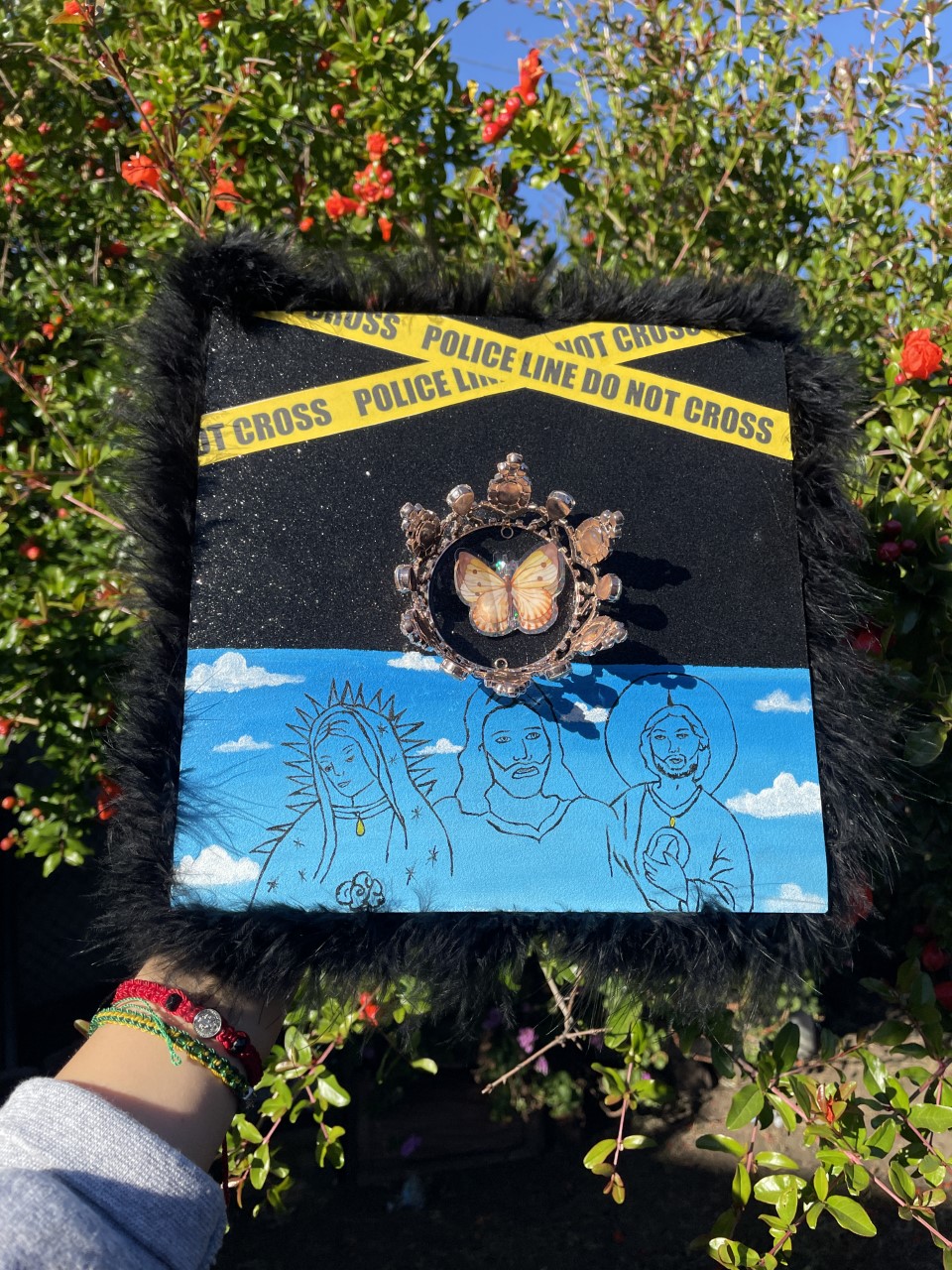 I decorated my cap with a small crown in the center because it represents power. I believe we all have power within ourselves, and nothing is impossible when we believe in ourselves.
I added police tape on the top because I am majoring in administration of justice, and it represents what my future career will be.
At the bottom of the cap, I added a painting of Virgin Mary, Jesus, and St Jude Thaddeus because I strongly believe in the spirituality of God, and I know that as long as they give me the strength to go through anything, I'll be okay.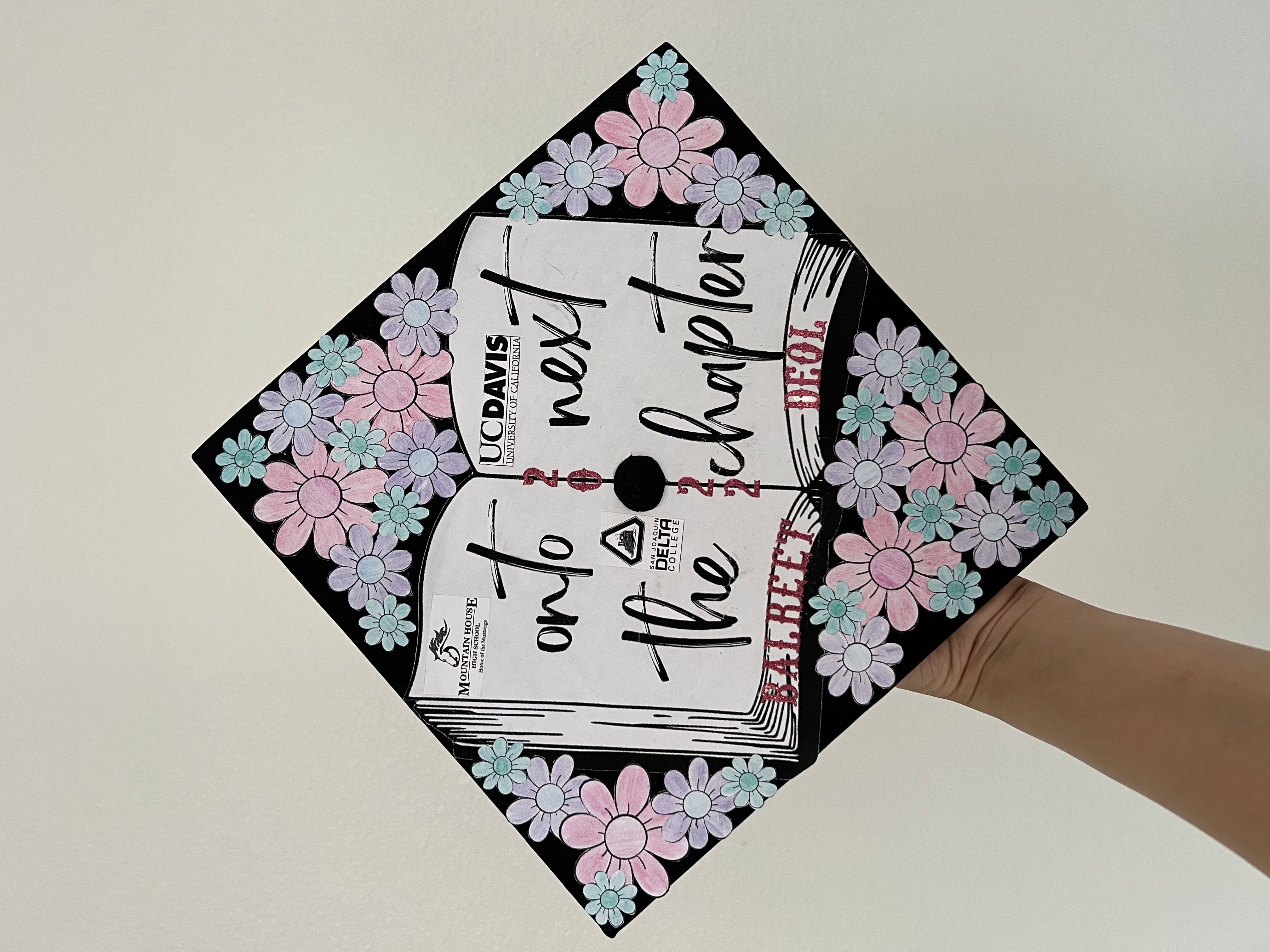 Balreet Deol
My name is Balreet Deol and my graduation cap shows the progression of my educational career.
I incorporated Mountain House High School, San Joaquin Delta College, and UC Davis which is the university that I will be attending in the upcoming school year. This is a new chapter and beginning in my life but my past experiences, lessons, and skills will lead me to the next big chapter in my life.
My graduation cap shows my previous schools on one side of the page in the book and another page begins with UC Davis which is the new chapter. This design really means a lot to me because it reminds me of my journey and the people in my life that have supported me through everything.
I am appreciative of everyone at Delta College that helped guide me in the right path. I am looking forward to graduation and can't wait for the future that is to come!!!
Rosita Lopez
I decorated my cap in a fun and significant way: Winnie the Pooh and Piglet have been my favorite Disney characters since I remember, representative of my childhood.
The balloons represent everyone who has helped me on my journey: my family, friends, and Delta faculty. They have all played an essential role in achieving my goals: graduating Delta College with 4 AAs and being accepted to UCLA and UOP!!
Plus, I love the saying "Up Up & Away We Go!" as it reminds me that although I may not know everything my future holds, I'm going "up," meaning I will rise and remain resilient despite challenges I may face. I honestly love how it turned out! It not only has the glitter and bright colors that make it fun, but it has a meaning I hold close to my heart!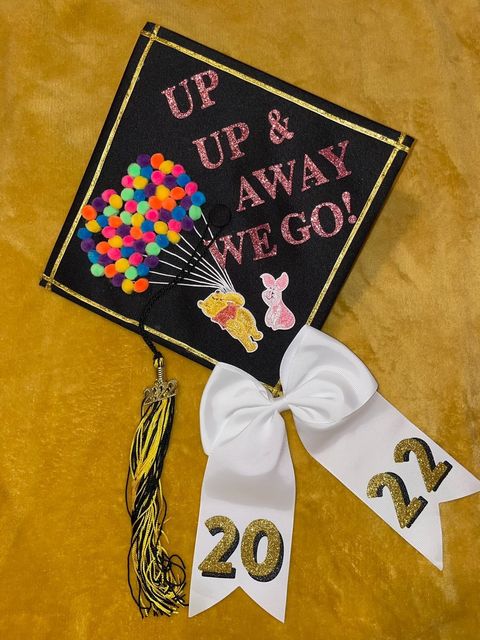 America Mariscal
"Aveces llore aveces dude pero jamás me raje y ahora lo logre"

"Sometimes I cried sometimes I doubted but I never gave up and now I made it"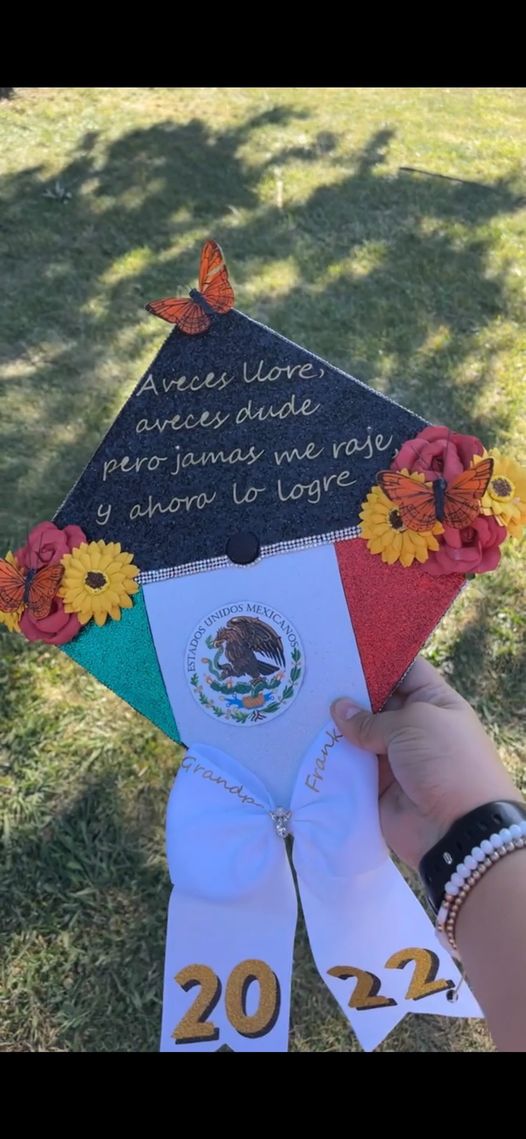 Throughout my journey at Delta College I went through good and bad times, and through the toughest classes that made me doubt myself, and it got to the point where it crossed my mind to quit. But with the support of my family and loved ones, it motivated me to keep going.
Unfortunately in March of 2021 my grandfather Frank passed away and it was one of the hardest things I went through especially with my classes. Instead of quitting or dropping out I decided to keep pushing and dedicated my degrees to my grandfather, because when I started my journey he was there with me and told me he wanted to see me cross the stage, so that's why I put the little angel on the bow with the words Grandpa Frank.
The reason behind the Mexican flag is that I want to represent my background, and the butterflies are to represent myself as a dreamer and to show other dreamers that it is possible
Sofia Casillas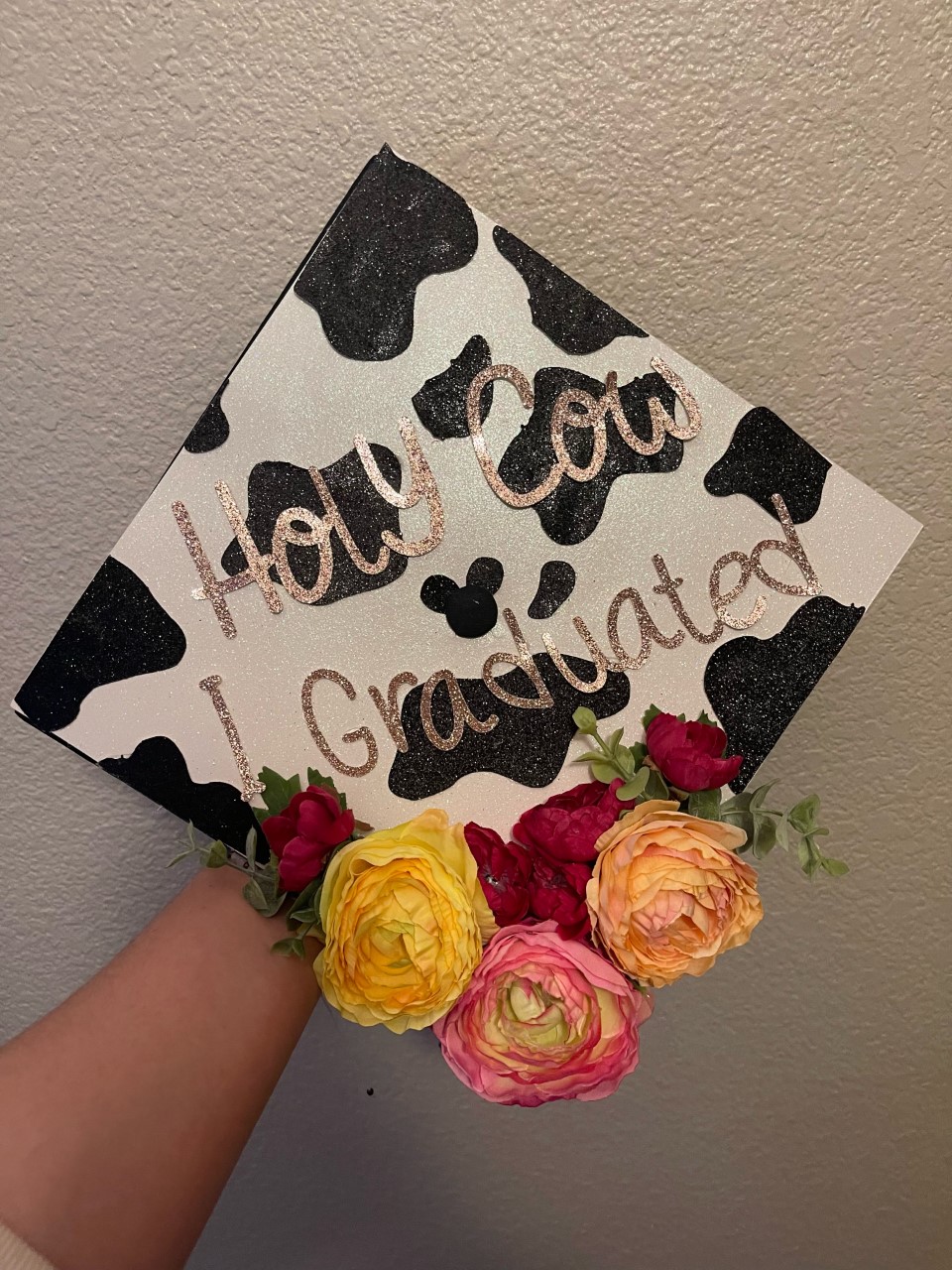 I chose to use a cow theme because of my love for animals in general.
I also love how it also ties into my Latinx roots. Growing up I was always surrounded by animals, so doing this theme just also reminded me of younger me and how happy she is to be a first generation graduate!!
Yairis Alvarez
I decided to do this because it is important to me to embrace where I came from and who I am and the opportunities I have been given in this country, and proud of my background and cultures. Thank you!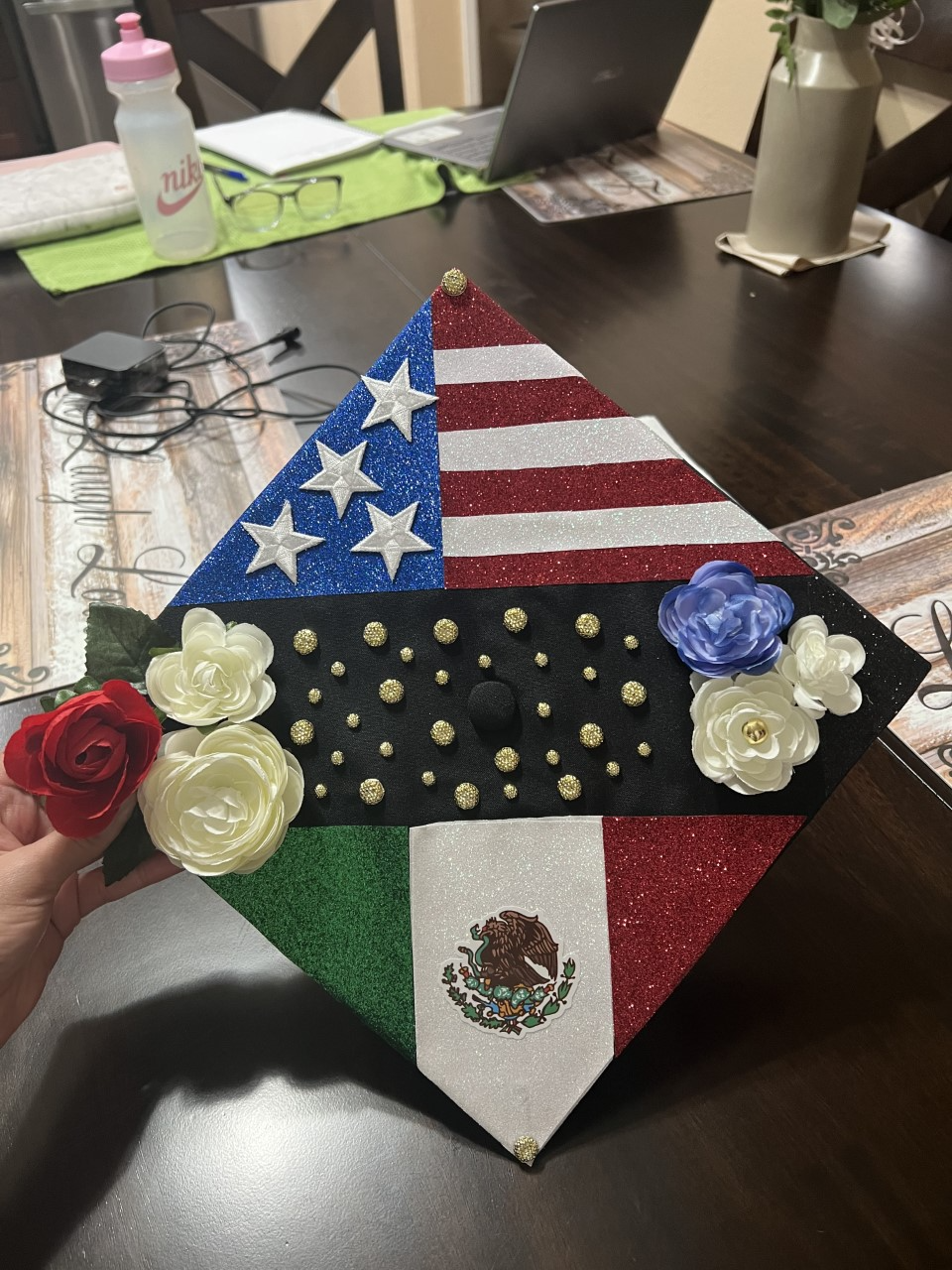 Hasna Khan
I will always believe in the motto "never stop dreaming," which is why it is featured prominently on my graduation cap. Everyone's dreams are vital to them. This is especially true if you wish to live a life filled with optimism. A little hope can benefit anyone.
So, whether you are attempting to reach your objectives or you are stuck in a rut, keep dreaming. This will give you motivation to keep trying, to fix and enhance your life. If you simply think practically and refuse to dream, you will never experience true progress and the opportunity to attain your full potential.
The majority of people desire to dream and see their aspirations fulfilled. Most people aspire to live a life of their own design. Therefore, "never stop dreaming."