'Break the Silence: Sharing Stories on Mental Health and Healing Through the Arts'
STOCKTON – Located on the campus of San Joaquin Delta College, the Horton Art Gallery presents "Break the Silence: Sharing Stories on Mental Health and Healing Through the Arts" from Jan. 24 through Feb. 14.
The exhibition presents works that explore mental health from the creative process and healing in and through the arts.
The Gallery will open at 5 p.m. Jan. 24 for the Opening Reception, with many of the exhibiting artists in attendance. The Gallery is always free and open to the public during exhibition hours.
The exhibition was developed in response to the multimedia project "Break the Silence," a collaborative effort with students and faculty from Delta's Radio and Television, Mass Communications, Photography, and Graphic Arts programs. The project focused on bringing awareness to mental health and wellness issues.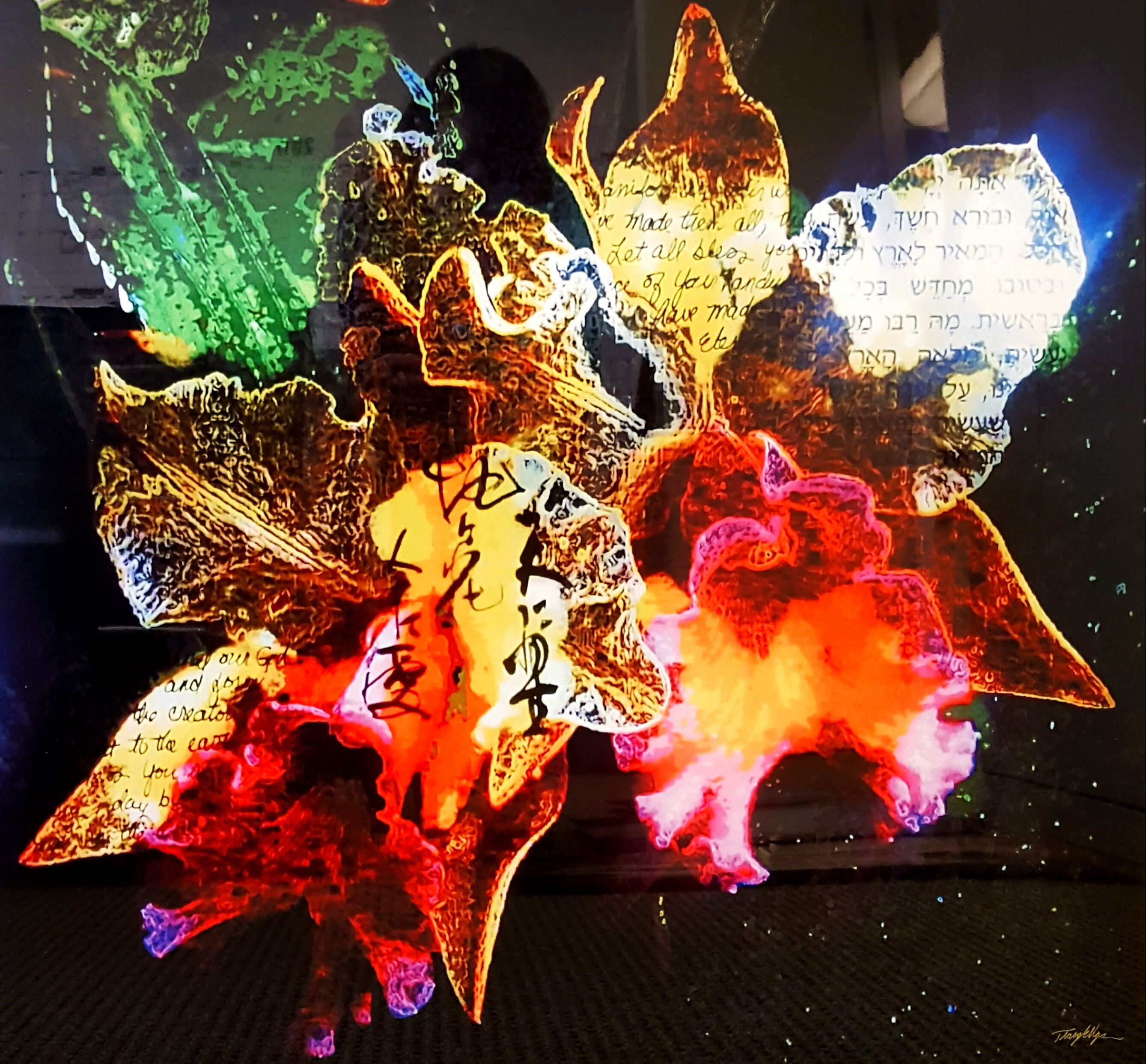 "Night Blossoms Refuah," by Tracy Ellyn
"The value of peer-to-peer messaging was apparent to all who participated in this project. It is important to recognize and address mental health on college campuses," organizers of "Break the Silence" wrote on the project website.
"I have learned that we tend to see each other as different but we're more the same than we think," one student participant wrote. "This is comforting because I am learning I am not alone in my depression. It is actually normal to feel the way I do."
Gallery director and exhibition curator Jan Marlese determined to continue the dialogue of the multimedia project and launched a nationwide search for artists working in the healing arts genre. 
In addition to the five professional artists exhibiting their work in the upcoming show, the Gallery engaged artist and Delta College alum Judy Shintani to work with 11 Delta College art students to create work for the exhibition with the theme of resiliency and healing through the arts.
Participating students created plaster cast masks adorned with a variety of sculptural features, paint, organic and found objects, personally selected to symbolize their concept of resiliency. Students of diverse backgrounds were brought together through art making to interact, connect, and discuss what resilience means to them. In addition to the creative and technical process of art making, the resilience mask workshop explored topics of:
• Interpersonal support systems
• Communication
• Self-confidence
• Self-care
• Positive focus vs. "negative Velcro"
• Gratitude
• Mindfulness meditation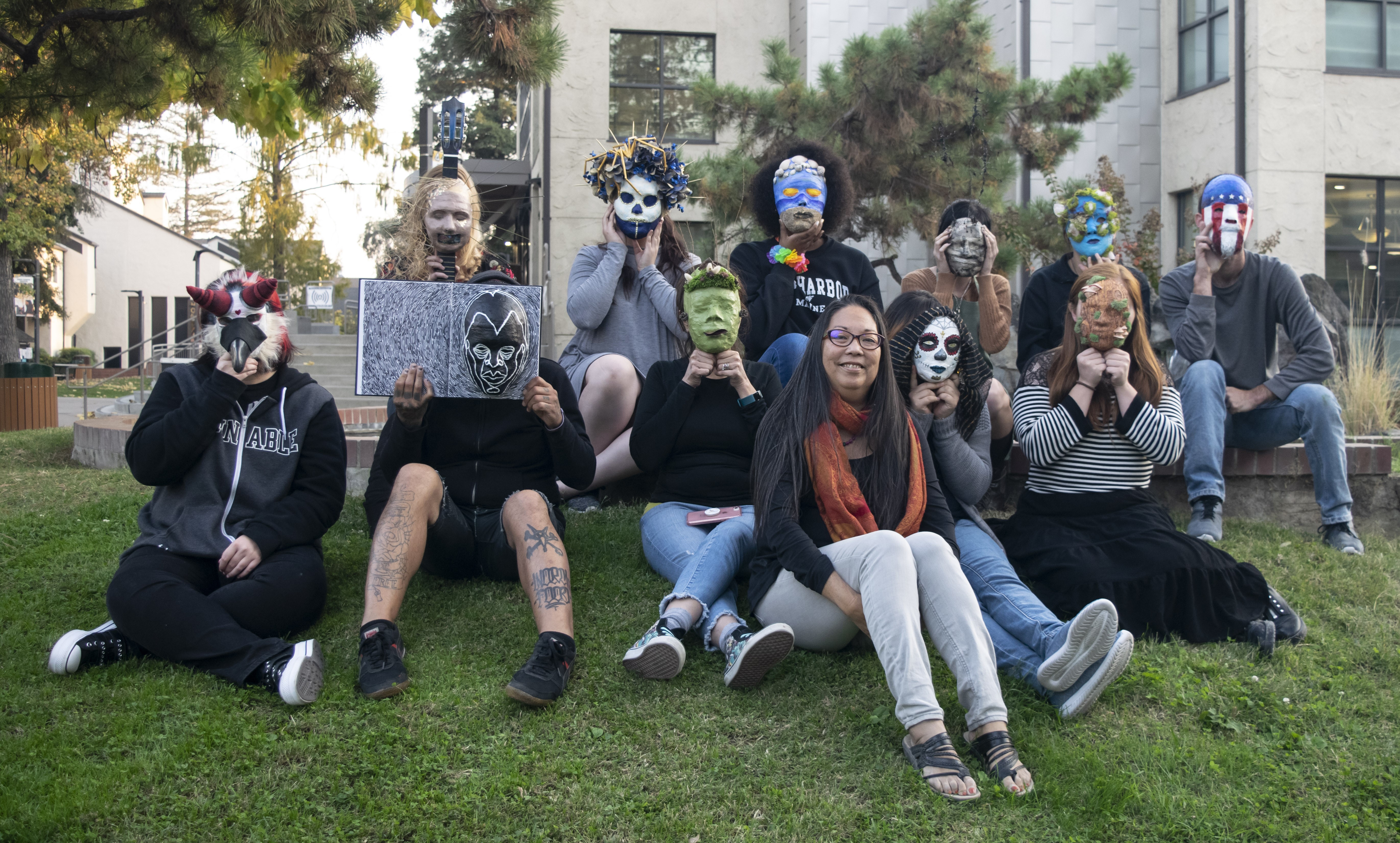 Student artists display their resiliency masks, created with the guidance of Delta alum Judy Shintani. Photo by Dawn LeAnn.
"Art is a way to explore and create resilience strategies that are unique to each individual," Ms. Shintani said. "The student artists experienced innovative ways of accessing resilience and ways to go deep into their art process. The mask-making project was new to most of them and for some working in 3D was also a different way of creating. All the artists in the class acknowledged that creativity is a valuable ability to help focus and take a break from chaos, and create a different world if they wish to. Art making is a way to have control, survive and thrive this sometimes difficult world."
Exhibiting Artists' Statements
Tracy Ellyn
"My passion in creating art as a way to bring healing to individuals and communities is my small part of tikkun olam — a Jewish concept defined by acts of kindness performed to repair or heal the world."
Jennifer Ewing
"The Healing Through the Arts exhibition implies movement from a place of suffering to a space of more hope. My Spirit Boat sculptures were created through reflecting on the Delta College students' Break the Silence Forum. Their stories are expressed in the title of each sculpture. A Spirit Boat can be a carrier of a voice and a vessel of healing for one who is blocked and is seeking a tool to help navigate difficult territory."
Reiko Fujii
"Through my art, I attempt to give form to my own inner healing process, creating an offering that can then extend my experience outward into the world. Through my art/life process, I have come to the understanding that the healing and transformation of society begins with the healing of oneself."
Pamela Paulsrud
"My mark making began as an abstraction of handwriting, intuitive movements, with particular attention to the rhythm and mood, referencing response to my environment. Each line, each stroke, is distinguished by the materials, the mood, the day, the rhythm, the breath—a visual language within a language, telling not only who we are but also how we are in that moment of time."
Judy Shintani
"The healing power of art is what keeps me creating. My art gives me a way to explore, and create ways in and through and around issues and feelings about the world and concerns that touch me. I research and make art about historical injustice. My visual storytelling brings it to light, linking it to current times, and offers healing through visibility and connection. Not only is creating art healing for myself, but it is my hope that it touches and encourages empathy and introspection for the viewer."
"Healing Shields," by Judy Shintani
Exhibiting Student Artists
Rob Basconcillo
"The mask (molded from my face) refers to my creatures that I create, "The Forgotten", are fused with the shape of me. I write to show the world that I exist. My resilience is to use the tools I have, to use them to overcome my inner battles."
Katelynn Castaneda
"Resilience to me means strength and adaptability. The strength is the foundation, being able to stay strong and not breaking down. Even if you do break down, getting back up and have the strength to continue. Adaptability is being able to adjust to new situations and new stressers."
Daniel Church
"Resilience means being strong and true to yourself no matter how unpopular or 'controversial' your views are."
Marili Gonzales
"To me resilience is awareness, willingness and hope to grow into your own person. Art has been one thing that has helped me open up and grow into the person I am now. "
Amanda Johnston
"Resilience is pliability, spirit, and strength. It is finding ways to cope and overcome adversity. Creating art and playing music are my sword and shield."
Jessica Lewis
"There are two things in my life that represent resilience to me which I used in making my mask: the beach, one of my favorite places, and a journal. No matter what's going on, the beach calms me down and helps to bring me a sense of peace. My mask is attached to a giant journal because when I am feeling sad, mad, or even happy I like writing it all down and letting it out."
Zoe Nelson
"My resilience is finding peace and growth within myself through the creation of art. My mask reflects my resilience because I am taking the peace of nature and growth showing it with my own fantasy style."
Chrysta Saenz
"To be resilient for me is to create an escape, to create a world that allows myself residence for small periods of time. My mask to me represents that escape—it's an object pulled from my safe place and brought to this world."
Sabrina Sanchez
"Three words come to mind when I think of resilience: hope, beauty, and growth. Everyone has a story and each of those words can be found in every individual who not only chose survival but chose to flourish. What keeps me striving forward during hardships is reminding myself where I came from, who I am, and where I'm going."
Alicia van de Bor
"Resilience to stress is achieved through the time I spend in nature. My mask is a collection of objects collected while hiking in California and Alaska."
Taylor Wick
"Resilience is the mental state that allows us to keep going, and by giving form (the mask) to a psychological being, helps us heal from the inside out."