Delta launches new and visually rich website
STOCKTON — San Joaquin Delta College today unveiled a new look for a new age, as the college rolled out a dramatically improved website that will better tell Delta's story to students and the general public.
The site, which has been under development for nearly two years, relies heavily on images with shorter blocks of text. Menus provide a clearer, simpler path to the vital information that students need, and features like an interactive campus directory will make it easier to connect with staff and faculty.
The site will be formally announced at Delta's annual commencement ceremony scheduled for 6 p.m. tonight at Stockton Arena.
"This exciting, fully accessible new website has been a long time coming, but I think you'll all agree that it was totally worth waiting for," said Delta Superintendent/President Kathy Hart.
She suggested students and the public experiment with the site, seeing how quickly they can find information about financial aid, scholarships or programs of interest. She also asked for the public's feedback on the college's social media platforms.
"The new website provides a better and more accurate representation of the modern and forward-looking college that we are today," said Delta's director of Marketing, Communications and Outreach Shelly Valenton, who spearheaded the project.  "Our goal is to provide a more positive user experience while also honoring the amazing work of our students, faculty and staff throughout the website."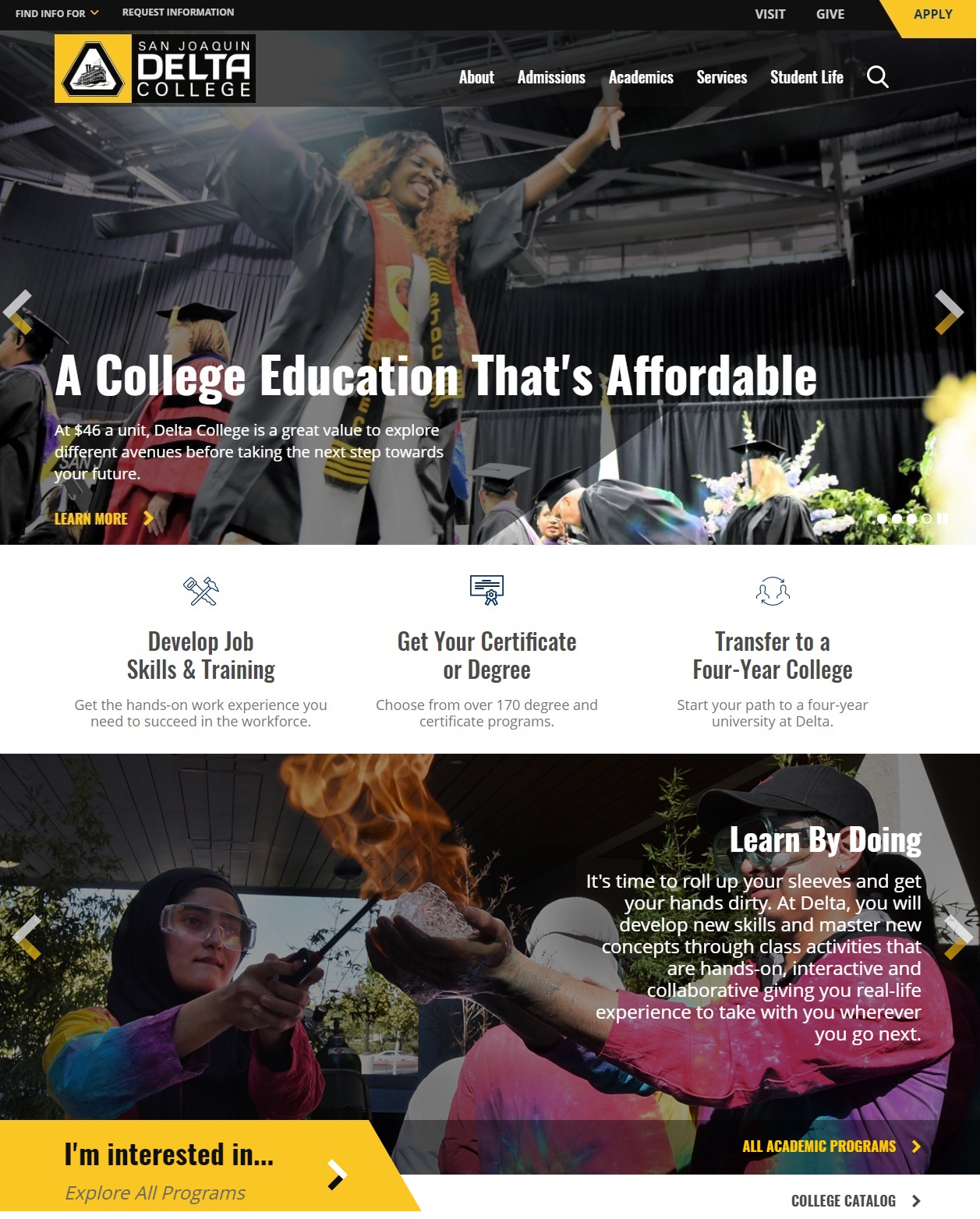 It has been more than 10 years since Delta's website was last updated. The site is critical since it gives thousands of potential students their first impression of the college before they have ever set foot on campus.
The new site has what's known as a "responsive design," meaning it automatically adjusts to fit different-sized devices like phones or tablets. It includes an interactive campus map with driving and walking directions. It allows students to explore programs of study based on their areas of interest. And the applications page is designed to make it easier for potential students to start their education.
Student success stories are also sprinkled across the site, an inspiring reminder of the potential for all Delta students.
The new site was developed with significant help from the campus community. About 1,300 faculty, staff and students shared their suggestions in an initial survey. Focus groups honed those results and the site was tested by user groups before it went live this morning.
Delta partnered with vendors KWALL and Mackey Creative Lab on the development of the new website. For more information, visit the website redesign project page.