Delta College trustees sworn in after re-election
STOCKTON – Three returning Delta College trustees were sworn in this week, officially launching their next term of service on the College's governing body.
Trustee Janet Rivera, the longest-tenured Board member, was sworn in for her eighth term after winning re-election in November. She was first elected in 1994 and represents Area 3 (north Stockton).
Trustees Charles Jennings and Catherine Mathis, who were unopposed in the election, also took the oath. Dr. Jennings serves Area 4 (Lodi, Galt, and the Delta) and was first elected in 2018; Dr. Mathis serves Area 7 (Lathrop, Manteca, and south San Joaquin County) and was first elected in 2014.
"I'd like to congratulate trustees Rivera, Jennings, and Mathis for their re-election, and to sincerely thank them for their willingness to continue to serve Delta College and our students," said Superintendent/President Dr. Lisa Aguilera Lawrenson. "The Board of Trustees plays a critical oversight role at Delta, and I look forward to working with all of our trustees as we tackle many important issues in the coming year."
Trustees Catherine Mathis, left, and Janet River are sworn in by Judge Ronald Northup. Trustee Charles Jennings was sworn in separately.
Delta also welcomed new student Trustee Fabian Molina on Tuesday night.
"I want to thank and commend Trustee Molina for taking on this role," Dr. Aguilera Lawrenson said. "Students are central to everything that we do at Delta, so it's crucial that their voice is heard as we do the work that is needed to further strengthen the College."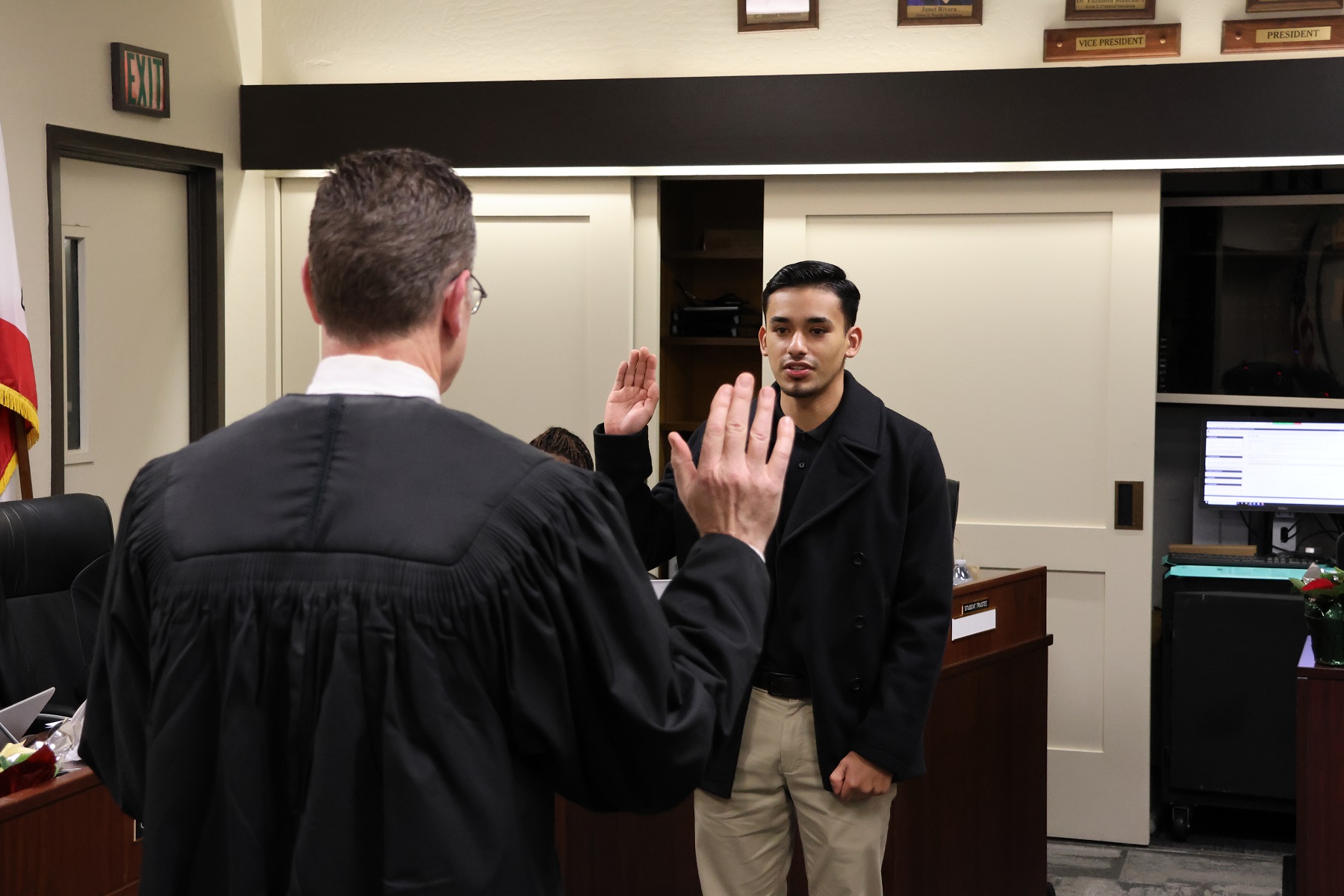 Student Trustee Fabian Molina is sworn in