Delta College to serve as COVID-19 vaccination site
STOCKTON -- Delta College is pleased to announce that beginning Wednesday, March 10, the COVID-19 testing area in the Shima parking lots will expand to include vaccinations for members of the general public who qualify based on current public health tiers.
Please do not simply show up for a vaccination. No walk-ups will be accepted. This event is for the general public and is not exclusively for Delta College employees, family members, or students.
Delta is very excited to be a part of this community-focused event that will help bring us out of this pandemic and return us to normalcy. Please review the following information for more details on the event, and information on traffic flow, road closures, and parking.
COVID TESTING - DAILY
First, a reminder that COVID-19 testing will continue Monday-Friday, from 10 a.m. to 6 p.m., in the Shima 2 parking lot. This has not changed.
COVID VACCINATION CLINIC 
COVID vaccinations for the general public, conducted by our partners at HRSupport, will take place ONLY on Mondays, Wednesdays, and Fridays between the hours of 10 a.m. and 6 p.m. in the Shima 1 parking lot. Again, you must have an appointment.
To view available appointments, visit sjready.org/events/covid19/vaccines.html.
Don't forget! All Delta College employees are eligible for a separate series of ongoing vaccination clinics at Blanchard Gymnasium. The two final first-shot clinics at Blanchard are scheduled for Wednesday and Thursday of this week. It's not too late to make an appointment! Please check previous emails for specific instructions, and register here: form.jotform.com/210078846156156 (English) or form.jotform.com/210281312829147 (Spanish).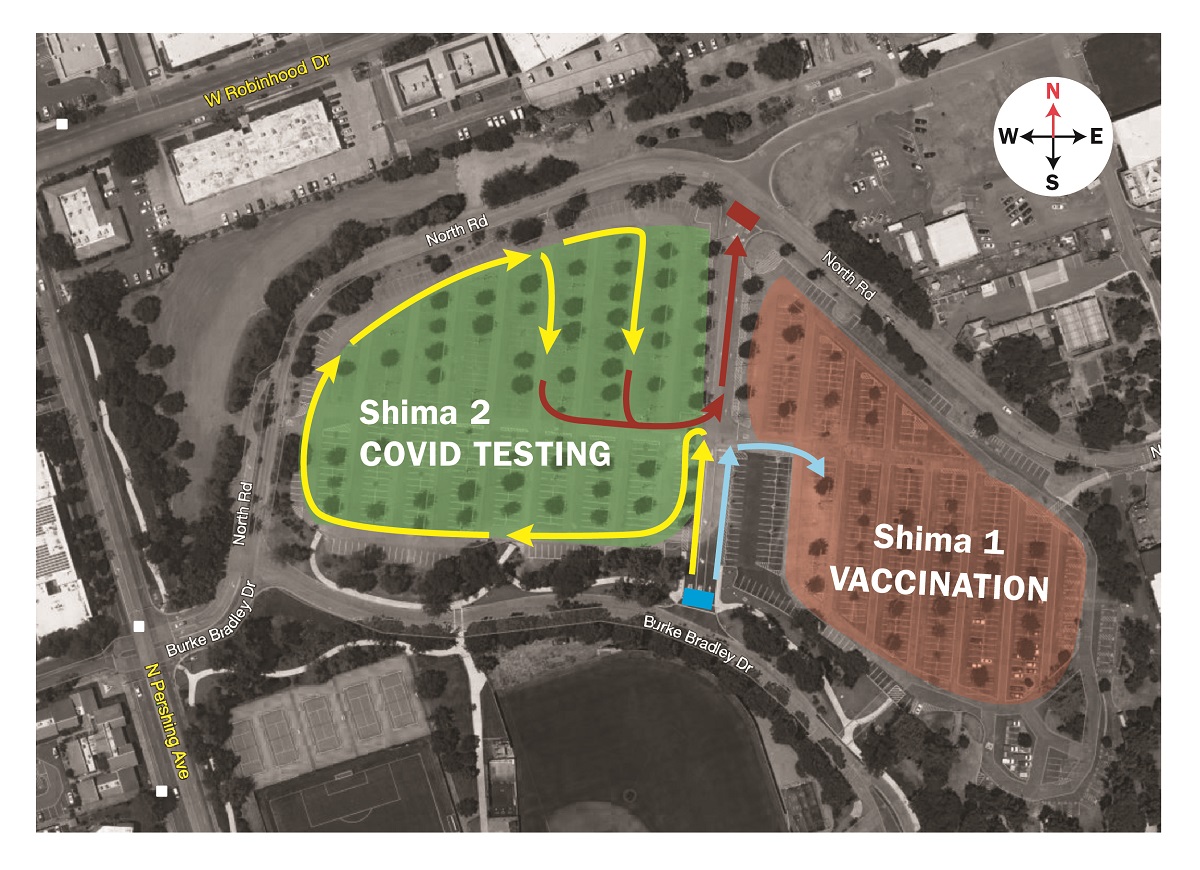 Effect on Parking and Roadways During Shima 1 Vaccination Clinics
On Mondays, Wednesdays, and Fridays, the following closures will take place.
West Burke Bradley Drive: 
All northbound traffic on West Burke Bradley will be blocked at the A1 parking lot. 
At the intersection with North Burke Bradley Drive (by the tennis courts), all southbound traffic onto West Burke Bradley will be restricted to only those with appointments for COVID vaccinations and/or testing.
Shima 1 and 2 Parking Lots:
The Shima 1 and Shima 2 parking lots will be closed to all parking and traffic that is not directly associated with the COVID vaccination and testing sites.
The District Police Department will be conducting traffic control to ensure that staff, students, visitors, and community members are able to travel safely and as efficiently as possible.   
We know that these closures may present an inconvenience for some and we thank you for your patience!