Agatha Christie mystery descends on Tillie Lewis stage
STOCKTON -- Delta Drama presents "And Then There Were None," the stage version of one of Agatha Christie's darkest and most successful mystery novels.
The production runs the weekends of March 4-6 and March 11-13 at Tillie Lewis Theatre on the Delta College campus. Admission is free. COVID-19 vaccination or proof of a negative test is required to attend, as are masks.
In Christie's "And Then There Were None," 10 strangers are summoned to a remote island. All that the guests have in common is a wicked past they're unwilling to reveal, and a secret that will seal their fate: Each has been marked for murder.
As the weather turns and the group is cut off from the mainland, the bloodbath begins, and one by one they are brutally murdered in accordance with the lines of a sinister nursery rhyme.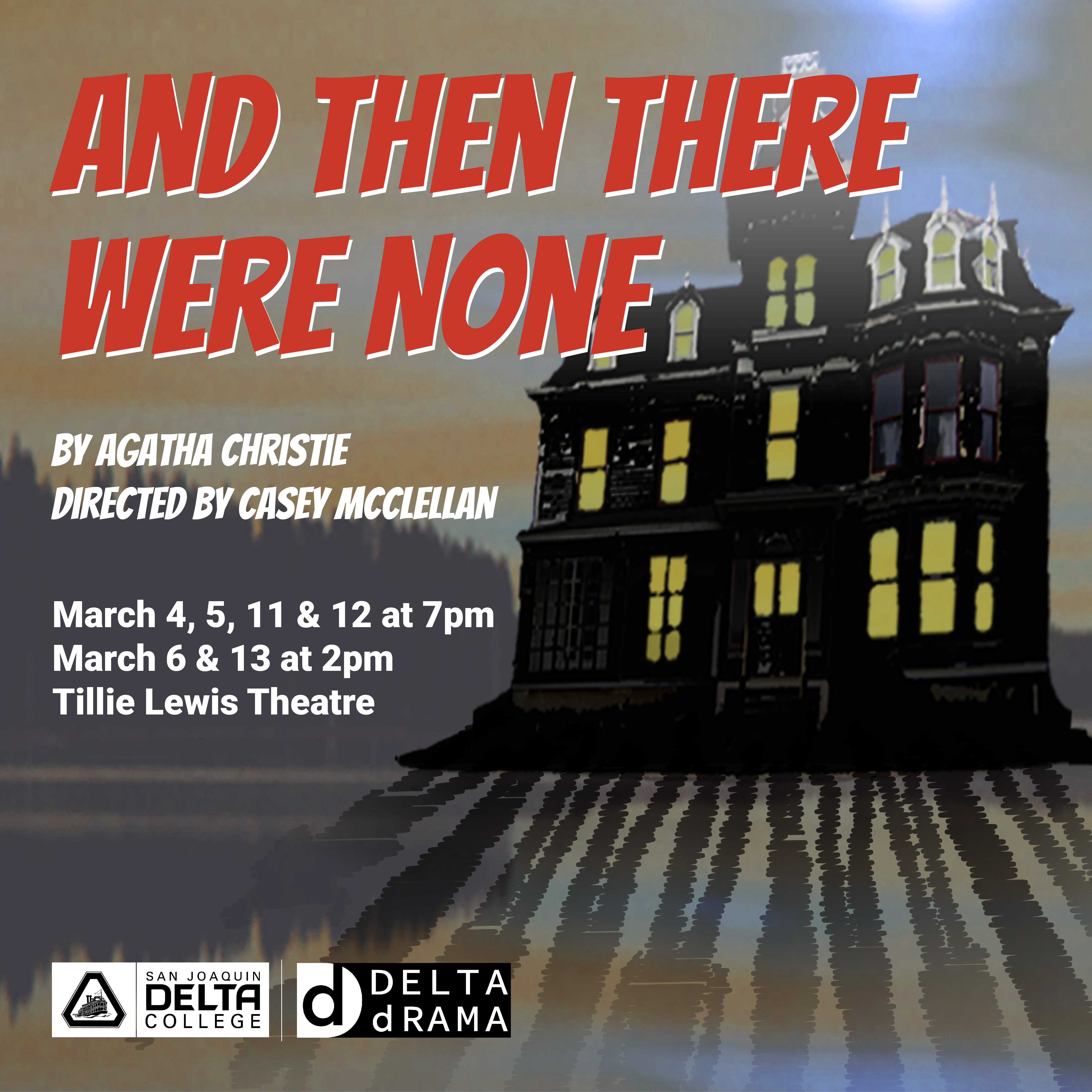 WHO: Delta Drama students 
WHAT: "And Then There Were None" 
WHEN: March 4-6 and March 11-13. Friday and Saturday shows begin at 7 p.m. with Sunday matinees at 2 p.m. 
WHERE: Delta College's Tillie Lewis Theatre
TICKETS: Free tickets are available at the Delta Center for the Arts Box Office online or by calling (209) 954-5110. 
AGE LEVEL: Recommended for 10 and up. 
COVID-19: Guests must provide proof of vaccination or proof of a negative COVID-19 test, and masks are required indoors (see details here).  
PRODUCTION STAFF                                                                
Director                                                                      Casey McClellan          
Costume Designer                                                     Jonathan Singer
Set Designer                                                               Kevin Bautch
Lighting Designer                                                      Kevin Bautch    
Sound Design                                                     Casey McClellan/Kevin Bautch 
CAST 
Rogers                                                                        Jon Michael Porter
Mrs. Rogers                                                                Sabiene Fontanilla
Narracott                                                                     Madison Daly
Vera Claythorne                                                         Taliesin Cook
Philip Lombard                                                          Joseph Dahl
Anthony Marston                                                       Parker Rose
William Blore                                                              Codey Court
General MacKenzie                                                    Mark Becerra
Emily Brent                                                                  Khryzel Boron
Sir Lawrence Wargrave                                          R. Israel Rodriguez
Dr. Armstrong                                                             Frankie Flores
About Delta Drama:
The Drama Program believes in the importance of providing to the college community a Drama curriculum that develops knowledge, skills and competencies necessary for transfer to the upper division level as well as fulfilling AA Degree general education requirements.
The Drama Program provides a rigorous, disciplined, and integrated curriculum designed to meet the vocational demands of the theatre profession. We offer scholarships to new students who qualify.
The Actor Training program is a two-year course of study in which students who have successfully auditioned can concentrate their efforts in rigorous acting classes three times a week in the first year and five times a week in the second year, while also studying stagecraft in separate technical classes.