Master Dance Workshop
San Joaquin Delta college, Stockton Delta Dance Company (SDDC) and Yameci Dance company invites you to attend an exciting Dance Workshop featuring different dance styles:  Improvisation, Jazz, Salsa, Contemporary, Afro Caribbean and more.
Partake in this fun and exhilarating  workshop with professional choreographers and artists at San Joaquin Delta College, Saturday, October 28, 2023 starting at 8:00 am, registration starting at 7:30 am in the Atherton Theater.

Come and show your support for local arts programs. The registration fee is $50 for High School students,  College Students  (with ID) and  $60 for general. Single class is $20.

Beginners, intermediate and advanced levels are welcome!!
Schedule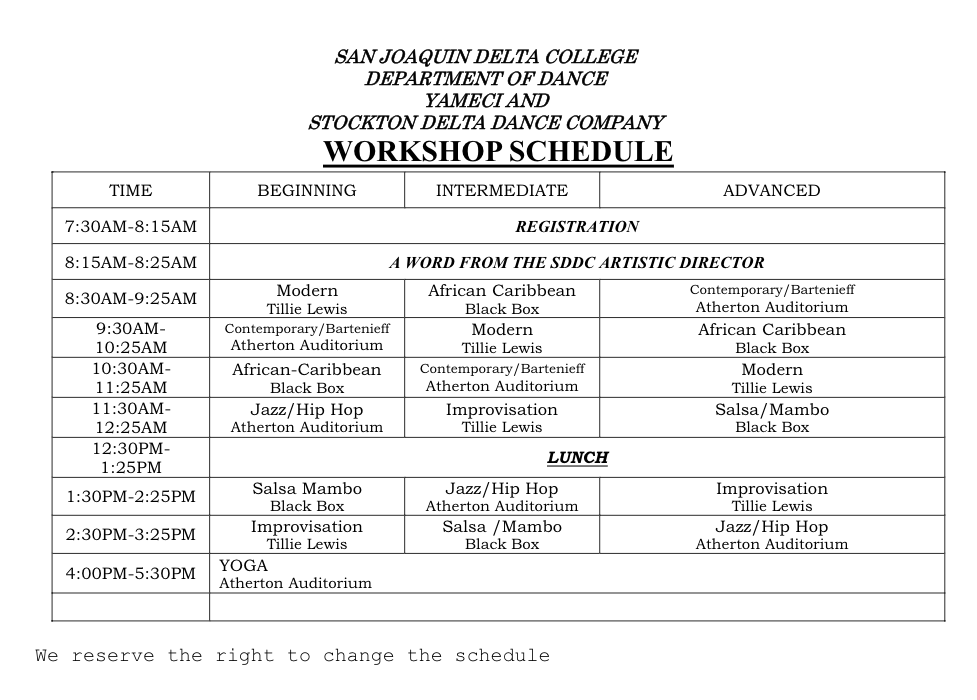 For More Information and to Register, click on the links below.
Questions? Please contact:
Valerie Gnassounou
Phone: (209) 954-5273
Email:
valerie.gnassounou@deltacollege.edu
stocktondeltadancecompany@yahoo.com
Website:
https://www.deltacollege.edu/program/dance
https://www.facebook.com/SJDCDANCE