Step by Step Instructions on how to upload proof of vaccination/booster.
Visit the Delta College HealthyReturns Resource Page (https://hitlrte.secure.force.com/NexGen/NexGenWelcomeID?site=DC)
 
Enter your Delta College email and click "Record a Vaccine"
Tip: If you do not know your Employee ID Number, please follow these instructions: https://sanjoaquindeltacollege.box.com/s/8b6694w56e319yg55bjm79yhjr3zdlx0

Once you see the green "Success" bar, check your email for an email with a secure link.
Tip: The secure link will be valid for only 15 minutes, so be sure that you are ready to upload your vaccination/booster information right away.
Tip: If you are both a student and an employee, you will need to complete this process using your employee email and employee ID.
 
Once you have clicked on the secure link, provide the required information for the Terms of Consent and click "Submit."

You'll then be prompted to enter your vaccine information. Indicate your vaccine status.
Tip: For this process, "Fully Vaccinated" means either have you received your full initial sequence of vaccination shot(s), or you have received your full initial vaccination shot(s) and your booster. If you received only one of the two initial shots, you are considered "Partially Vaccinated."
Tip: Vaccination information that you have previously submitted to the College should appear automatically.
 
You'll be asked to provide the vaccination country, manufacturer of your vaccine, and the date of each dose. You may enter the lot number but it is not required. Below those fields, click "Choose file" to upload either a photo of your vaccination card with all of your vaccination/booster dates, or upload a screenshot of your California Digital COVID-19 Vaccine Record, which you can find at myvaccinerecord.cdph.ca.gov 
Tip: You can upload more than one file if needed.

Check the box under "Attestation and Consent" and click "Submit.
Examples
8. Once successfully submitted, you will see green "Success" bars. A confirmation email will be sent to your Delta College email letting you know that the information you submitted is pending review. This does NOT mean you have complied with the mandate.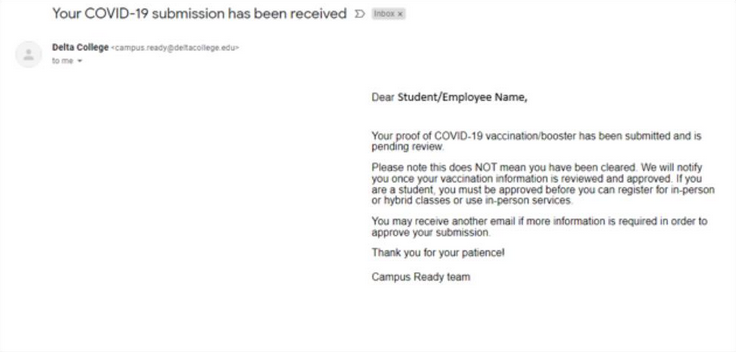 9. Once your vaccine information has been verified, an approval confirmation will be sent. This means you are in compliance with the mandate!
 
Delta Faculty & Staff Booster Upload
---
Exemption reminder
To apply for a medical or religious exemption if you do not already have an approved exemption on file use the following link
Booster Exemption Request Form for Employees
---